Covid-19: 'It will be hard not to celebrate,' says Premier League player
Last updated on .From the section Premier League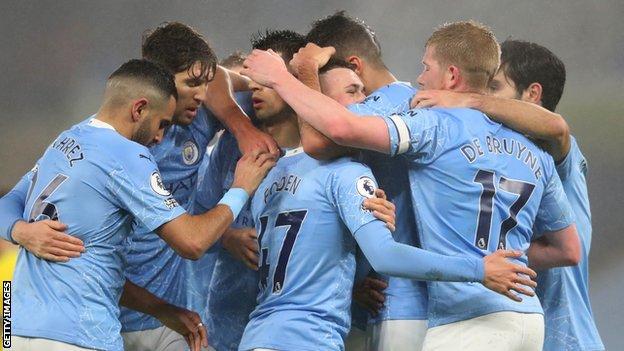 A Premier League player has told BBC Sport that it will be difficult to avoid breaking new goal-celebration rules, which have come about after a rise in coronavirus cases in England.
The league wants players and staff to avoid "unnecessary contact".
There were goal celebrations involving Sheffield United, Manchester United, Manchester City and Fulham this week.
"It's going be hard to think: 'I'd better not celebrate because of Covid.' Doesn't come into your mind," he said.
Premier League chief executive Richard Masters recently wrote to clubs to "stress the critical importance of adhering" to strengthened Covid-19 protocols. They were reminded that "handshakes, high fives and hugs must be avoided".
The player, who chose to remain anonymous, added: "It's the fact that football is still going and people feel maybe it shouldn't be, and want to find a way to say something bad.
"We shower together, get changed together, train, tackle - all that stuff - sit on a plane together, but we have to get three coaches to the game."
Later on Thursday, the Premier League and English Football League declared in a joint statement that they were confident their respective campaigns will conclude on schedule in May, as long as clubs adhered to the Covid safety measures.
The Football Association is writing to all Women's Super League (WSL) clubs before the weekend to remind them of their responsibilities and the need to adhere to protocols. This includes avoiding contact, such as hugging, during celebrations.
It is also considering plans for clubs to bring academy players into their elite testing pool to widen their squad and to try to avoid the mass postponements that all but wiped out last weekend's WSL fixtures. The majority of academies are closed at the moment as they cannot meet the elite protocols.
Manchester City boss Pep Guardiola said after Wednesday's 1-0 win over Brighton that he "didn't know" whether it would be possible to curb celebrations and pointed out that players were regularly tested and matches take place outside.
Brighton boss Graham Potter said it was "doable" but added that it would need a change in mindset to ensure the protocols were met.
'I see group hugs in five-a-side'
Chelsea manager Frank Lampard says he will suggest to his players that they stop celebrating during training.
"In all seriousness, we practise social distancing as much as we can at the training ground," said the former Blues and England midfielder.
"On the pitch it can be difficult at times clearly, because you have to train and get close to each other.
"It's something I will pass on to the players, and you see a lot of these group hugs now when they win a five-a-side [in training], so that will be something we'll look at."
West Bromwich Albion boss Sam Allardyce said the rules would be followed to keep football matches on but added he was "peeved" that players were being called "irresponsible".
"We're getting tested two or three times a week. We have sterilisers, masks and independent monitors at the training ground making sure we don't do this or that," said the 66-year-old, who was also critical of the government's handling of the pandemic.
"I can't have meetings more than 10 in a room, so why are they thinking we are doing it wrong? Just because we're celebrating scoring a goal. Come on, that's not right."
Premier League to discuss new guidance
The Premier League is to meet club managers and captains to discuss adherence to the new protocols, that were released earlier this week.
League chiefs will not hold a meeting for all 20 clubs but have instead decided to have the guidance issued locally by director of football Richard Garlick. That is viewed as the most effective method of communication and one that will allow debate. The meetings are not being regarded as "crisis talks".
The Premier League believes the enhanced protocols are working well overall.
It is understood Aston Villa, Fulham and Manchester City - the three clubs to have had issues over the Christmas and New Year period - have worked well with the Premier League and Public Health England to get the situations under control.
In the latest round of coronavirus testing, the number of positive cases went down from 40 to 36 compared with the previous week, although it is accepted that needs to reduce further.