Coronavirus outbreaks make it 'morally wrong' to continue playing, says Steve Bruce
By Alistair Magowan
BBC Sport
Last updated on .From the section Newcastle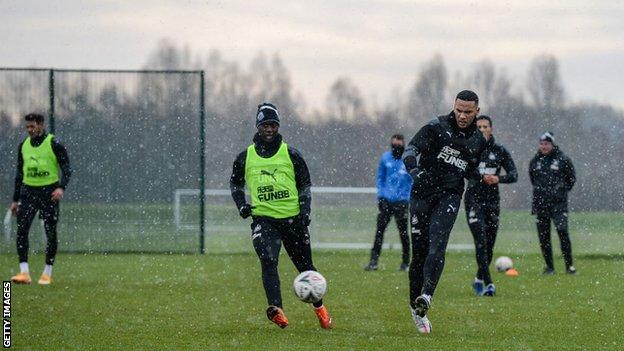 Newcastle boss Steve Bruce says it is "morally wrong" for football to continue amid increasing coronavirus outbreaks at clubs.
The Magpies were the first team to have a Premier League match postponed this season, but more than 60 games in England have been called off.
Aston Villa and Derby are also having to field under-23 teams in the FA Cup.
The Premier League has warned it could discipline clubs if they do not act over breaches of Covid-19 rules.
"Financially it's right to play on, but for me, morally, it's probably wrong," said Bruce.
"I understand people want to see a game of football but we are just as vulnerable as everybody else.
"The speed which it hit our club within hours of each other, it was quite incredible how it rips through you. It's difficult to contain and stop and it leaves people sick."
Newcastle captain Jamaal Lascelles contracted Covid-19 but could return to face Arsenal in the FA Cup on Saturday, though winger Allan Saint-Maximin has still not recovered from the virus.
Asked about sides having to field weakened teams in the FA Cup because of positive cases, Bruce replied: "It devalues the FA Cup. We understand we are playing seven games in January, after seven in December, and the season has been squashed and there is no room for anything else.
"But to play weakened teams or youth teams - is that the way round it? Not for me."
Elsewhere, more than 100 positive Covid-19 cases have been recorded after tests were carried out among players and staff at 66 English Football League clubs.
And First Minister Nicola Sturgeon has warned that "all bets are off" if those involved in Scottish professional sport do not respect extra privileges.
Stoney 'sorry' for letting players travel
Manchester United boss Casey Stoney said she is "sincerely sorry" for giving the Women's Super League club's players permission to travel to Dubai over the festive period.
United's WSL game against Everton this weekend has been called off - because of Covid-19 cases and injuries in the Everton camp.
Stoney confirmed that at least one of her players had been to Dubai, the destination visited by other WSL players, including from Manchester City and Arsenal - whose matches this weekend have been called off because of positive coronavirus tests.
There have been no coronavirus cases reported in United's squad.
Premier League tightens protocols & issue warning - analysis
BBC Sports News correspondent Laura Scott:
The Premier League has implemented stronger coronavirus protocols in light of a recent surge in cases, including reminding players and managers to avoid handshakes and high fives.
Compliance officers will also apply more robust policies to reporting breaches of protocols and will be tasked with checking hotel stays, travel plans and behaviour in dressing rooms.
The number of staff attending training grounds will also be reduced, social distancing will be enforced more strictly and the use of canteens will be further limited.
Stricter matchday protocols include avoiding unnecessary contact at all times, and substitutes wearing face masks.
In a note sent to clubs, the Premier League has warned it may take disciplinary action if they fail to to ensure people who breach the rules are "appropriately investigated and sanctioned."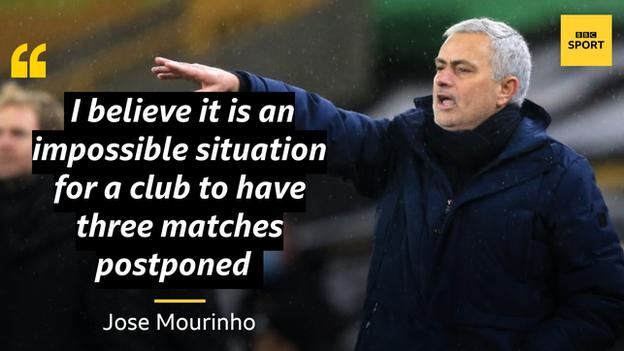 Solskjaer and Ancelotti see positives
Manchester United winger Facundo Pellistri, 19, has tested positive for coronavirus but manager Ole Gunnar Solskjaer hopes football can continue in spite of the rise in cases.
"I personally feel safe within our bubble, we've taken all the steps we've had to following protocols and guidelines," said Solskjaer.
"What's happening outside is frightening and we have a responsibility and duty to steer clear and keep within the bubbles.
"I hope we can continue playing because it's a positive impact for anyone. I feel at home when you don't have a game yourself you're looking forward to watching a game on telly and the mental wellbeing of football has been a big positive, I think."
Everton boss Carlo Ancelotti said it was safe for football to continue and was "important for people to watch on TV".
The Toffees' Premier League match at home to Manchester City was postponed four hours before kick-off following an outbreak at City.
"I think that the protocol in place now is really good. We feel quite safe," said Ancelotti. "I think that football has to continue because in this particular period, it's really important for the people, for the community, to have football on TV to watch because there are no cinemas or theatres to visit."
Mourinho sees the impossible
While Aston Villa's Covid-19 outbreak will see them field a youthful side against Liverpool in the FA Cup, their next Premier League game against Tottenham on 13 January remains in doubt.
Tottenham have already had one fixture postponed on 30 December when opponents Fulham reported a rise in Covid-19 cases and the two sides have also seen their reverse fixture moved because Spurs have reached the EFL Cup final in April.
Spurs boss Jose Mourinho is uneasy about any potential further schedule changes given his side also have Europa League commitments.
"I believe it is an impossible situation for a club to have three matches postponed, especially if that club plays in Europe," he said.
"For a Europa League team to have three matches postponed is completely impossible, that is the only thing I can say.
"It is for the Premier League to make decisions, if we don't play against Aston Villa we will have three matches postponed and that is impossible because it would need the Euros to get moved and that is not going to happen."


Stream eight live FA Cup third-round games this weekend on BBC iPlayer, the BBC Sport website and app.

Find out more here.