Colin Bell will always be the king of Man City, says Micah Richards
Last updated on .From the section Man City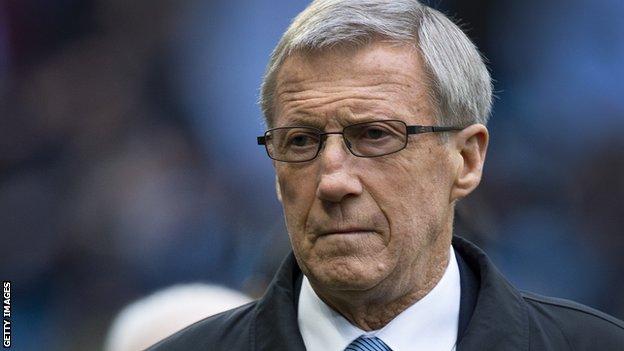 Colin Bell, who died on Tuesday aged 74, will always be the "king of Manchester City", says former Blues defender Micah Richards.
Former England midfielder Bell helped City win multiple honours between 1966 and 1979, making 501 appearances and scoring 153 goals.
"He will never be replaced," Richards told BBC Radio 5 Live.
"Colin was actually quite shy and very humble. He had an aura about him; he was such a legend."
During his 13 years as a player at Maine Road, Bell helped the Blues win the First Division and Second Division titles, as well as the FA Cup, League Cup and Cup Winners' Cup.
In 2004, Manchester City fans voted to name one of the stands at Etihad Stadium in Bell's honour.
After announcing his death, City said "few players have left such an indelible mark" on the club.
"He is the king of Manchester City and always will be," said 32-year-old Richards, who first met Bell after joining the club's academy aged 14.
"Sometimes when someone is so great, you expect them to be a little bit arrogant but he was the complete opposite - one of the nicest and most genuine people I have ever met.
"Everything he did was class. We have lost a great player for Manchester City and a great man as well. It is heartbreaking."
Former City captain Vincent Kompany also paid tribute to Bell's character as well as his footballing ability.
"This man was on another level; if only I could have seen him play. He was incredibly kind and humble when I met him," said the Belgian, who played for City between 2008 and 2019.
Kompany himself is considered a City legend - along with David Silva, Yaya Toure and Sergio Aguero, plus Kevin de Bruyne in more recent seasons - for helping restore success at the Blues over the past decade.
In 2012, City won their first English title since Bell and his team-mates did so 44 years earlier.
'De Bruyne, Nijinsky and The King'
Speaking to BBC Radio Manchester, City legend Mike Summerbee compared Bell's qualities to that of the club's current playmaker Kevin de Bruyne.
"Every time you see Kevin de Bruyne play you're seeing Colin Bell playing," said Summerbee, who played alongside Bell for the club.
"They're very similar - they've got pace, great passers of the ball and had similar attitudes. Kevin's very much a quiet man, a family man and Colin was exactly the same so the similarities are there to be seen.
"Colin was a great player but apart from being a great player he was a fantastic person. He was a very quiet man, a very unassuming person and I don't think he realised how great he was. He was really appreciated by the fans.
"He was the one other teams were afraid of, we just backed him up and did what we could - but he was something special."
Joe Royle, who played alongside Bell and later managed the club, added: "It's hard to imagine a price for him now in the transfer market. Seeing him day to day in training, he was not only a fantastic footballer but an awesome athlete.
"Hence the nickname 'Nijinsky' after the racehorse as he was literally still running when everyone else was dropping. He could have played anywhere."
Paul Lake, who played for City from 1983 to 1986 and later worked with Bell at the club, said: "We talk about him being 'The King' and all of these lovely expressions, but he was symbolic of that time.
"It feels to most City fans that part of the club has died. He is that much a part of the fabric."