Tottenham: Jose Mourinho 'disappointed' after three players attend party
Last updated on .From the section Tottenham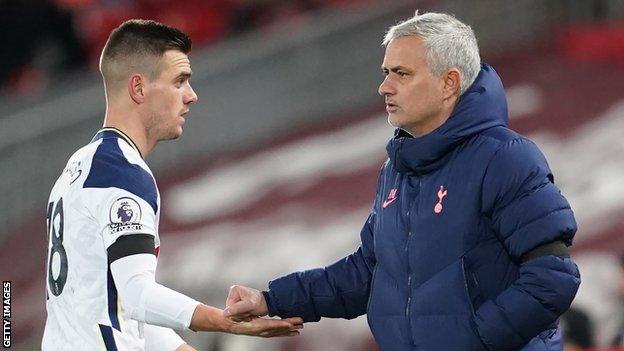 Tottenham manager Jose Mourinho says he is "disappointed" after three of his players breached coronavirus rules by attending a party over Christmas.
A picture on social media showed Argentina forward Erik Lamela, Spain defender Sergio Reguilon and Argentina midfielder Giovani lo Celso at a party.
"We are not happy - it was a negative surprise for us," said Mourinho.
In a statement, Tottenham said they were "extremely disappointed" and "the matter would be dealt with internally".
West Ham reminded Argentina forward Manuel Lanzini, who also attended the party, of his responsibilities.
Lanzini apologised in a tweet on Saturday, saying he made a "bad mistake".
"I take full responsibility for my actions," he said. "I know people have made difficult sacrifices to stay safe and I should be setting a better example."
Lamela and Lo Celso were not involved in Saturday's 3-0 Premier League win at home to Leeds, while Reguilon, who joined from Real Madrid in September, was on the bench.
"I gave an amazing gift to Reguilon - Portuguese piglet," Mourinho said. "Amazing for Portuguese and Spanish. I was told he would spend Christmas on his own. He was not alone as you could see.
"We, the club, feel disappointed because we gave the players all the education and conditions. We know what we are internally. We don't need to open the door to you and let you know what is going on internally.
"What are going to be the consequences and how deeply we approach that negative surprise? I feel disappointed."

The Spurs statement added: "We strongly condemned the image showing some of our players with family and friends together at Christmas, particularly as we know the sacrifices everybody around the country made to stay safe over the festive period.
"The rules are clear, there are no exceptions, and we regularly remind all our players and staff about the latest protocols and their responsibilities to adhere and set an example."
Lamela has made two league starts and Lo Celso four this season.
Lanzini has featured in nine of West Ham's 17 league games, coming on as a substitute in Friday's 1-0 win at Everton.
A West Ham spokesperson said: "The club has set the highest possible standards with its protocols and measures relating to Covid-19 so we are disappointed to learn of Manuel Lanzini's actions.
"The matter has been dealt with internally and Manuel has been strongly reminded of his responsibilities."
Tottenham's home league game with Fulham, scheduled to take place on 30 December, was called off three hours before kick-off after a number of Fulham players tested positive for coronavirus or showed symptoms.
Meanwhile, Fulham told BBC Sport they are looking into claims Aleksandar Mitrovic broke coronavirus rules by attending a New Year's party with Crystal Palace midfielder Luka Milivojevic.
Images on social media, reported in the Sun, allegedly show the Serbia team-mates celebrating in London with at least seven other adults.
The mixing of households indoors is banned in London under the UK government's tier four restrictions.
'Mourinho must be so angry'
Former England captain Alan Shearer on BBC Radio 5 Live
Mourinho has been so critical and vocal of how the Premier League handled their situation [the Fulham postponement], which I totally disagree with him.
You have to accept we're in strange and difficult times - if it has to be called off at whatever time then it has to be called off.
To then see some of his players breaking the rules and laws, particularly when millions of people are sacrificing so much not only in this country but around the world, Mourinho must be so angry.