Everton v Man City: Premier League fixture postponed after visitors report coronavirus cases
Last updated on .From the section Premier League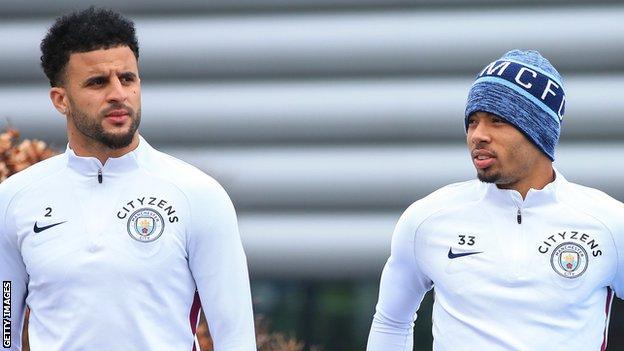 Manchester City's Premier League match at Everton on Monday was postponed four hours before kick-off because of an outbreak of coronavirus at the club.
Everton said they would request "full disclosure" of the information City provided to the Premier League that led to the postponement.
City reported new positive coronavirus tests on Monday, in addition to those they had confirmed on Christmas Day.
The Premier League then agreed at a board meeting to postpone the match.
Following the confirmation of Monday's positive tests, City said their training ground would be closed for an "indeterminate period".
City cited "a risk the virus could spread" among the squad with the "security of the bubble compromised".
On Christmas Day, City reported that Gabriel Jesus, Kyle Walker and two staff members had tested positive for coronavirus.
The postponement came on a day that saw a number of English Football League matches called off because of Covid-19.
In League One, Rochdale announced their next two fixtures would be postponed, while Doncaster confirmed their next three games had been postponed.
League Two side Morecambe said their next two matches had been called off too.
Manchester City's trip to Everton is the second Premier League match to be called off because of coronavirus since the top flight's resumption in June. Newcastle's match at Aston Villa, scheduled for early December, was also postponed.
A City statement said: "After the latest round of Covid-19 testing, the club returned a number of positive cases, in addition to the four already reported on Christmas Day.
"Based on strong medical advice the Premier League, in consultation with both clubs, have decided to postpone the fixture."
Everton said in a statement: "Our players were prepared for the game, as were both the team staff and everyone at Goodison. Match day is the most important date in our calendar. And this was a big one.
"While Everton will always have public safety uppermost, we will be requesting full disclosure of all the information that Manchester City provided to the Premier League so the club can be clear on why this decision was taken."
The Premier League said the rise in cases at City "created uncertainty" and that the competition's board "received medical advice that the match should be postponed".
A league statement continued: "The board agreed to rearrange the game as a precaution, and further testing will now take place tomorrow [Tuesday].
"The decision has been taken with the health of players and staff the priority.
"The Premier League continues to have full confidence in its protocols and rules, and the way in which all clubs are implementing them."
City are scheduled to play at Chelsea on Sunday, 3 January, followed by their Carabao Cup semi-final at Manchester United on Wednesday, 6 January.
The club said their squad and those in their associated bubble will be tested before a decision is made whether to resume training.
Analysis
BBC Sport's Simon Stone
It is fair to say this news has been greeted with disappointment at Everton, given they had the chance to join Liverpool at the top of the Premier League - and are still allowed supporters at matches at Goodison Park, with Merseyside in Tier 2 under the UK government's coronavirus restrictions.
The club were only alerted to a potential problem on Monday afternoon and whilst it is understood they are not angry about the situation, they are looking for full disclosure from the Premier League for the precise reasons they came to the decision they did.
As for City, they will probably never know the precise reasons for the outbreak.
However, they did play Arsenal in the EFL Cup at Emirates Stadium on 22 December, by which time London had been put in Tier 4, and City have been told positive cases have subsequently been reported at the hotel they were staying in.
In the short term, their training ground has been closed and all players and staff will be tested on Tuesday.
This is the same procedure Newcastle had to go through earlier in December, after their match at Aston Villa was called off.
With a congested fixture list, City's Premier League match at Chelsea on Sunday 3 January and EFL Cup semi-final at Manchester United on Wednesday 6 January are both at risk.
However, unlike Leyton Orient, who had to forfeit their tie against Tottenham earlier in the competition when their squad was ravaged by positive coronavirus tests, the semi-final would be rearranged.