Raul Jimenez: Wolves striker has surgery on fractured skull after David Luiz head clash
Last updated on .From the section Wolves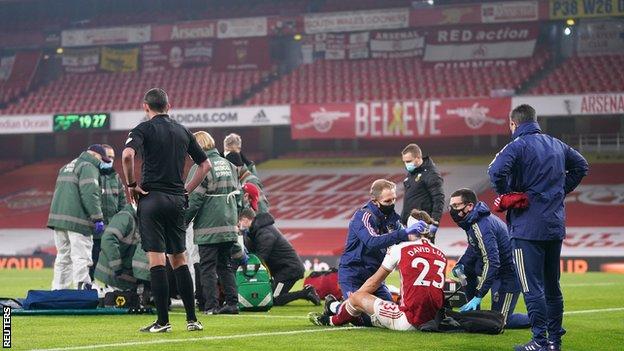 Wolves striker Raul Jimenez has had surgery on a fractured skull suffered in a clash of heads during his side's Premier League win at Arsenal.
Sunday's match at Emirates Stadium was in its early stages when Jimenez and Gunners defender David Luiz accidently collided at an Arsenal corner.
He was given oxygen on the pitch before being taken to hospital.
"Raul is comfortable following an operation last night," Wolves said in a statement.
"He has since seen his partner Daniela and is now resting. He will remain under observation for a few days while he begins his recovery.
"The club would like to thank the medical staff at Arsenal, the NHS paramedics, hospital staff and surgeons who, through their skill and early response, were of such help."
The game was stopped for around 10 minutes to allow Jimenez, 29, to receive treatment before he was carried off the pitch on a stretcher.
"You start hearing 'code red'," Wolves boss Nuno Espirito Santo said.
"It was a bad moment. What was the reaction? Panic, panic panic. You could see the faces on the team-mates. It was a serious situation. It's awful and terrible."
Nuno's Arsenal counterpart Mikel Arteta said he knew "something really bad is happening" from the reaction of the players.
Brazil centre-back Luiz, 33, played on with a bandage wrapped around his head before being substituted at half-time. Arsenal said protocols were followed regarding the decision.
Speaking on Match of the Day 2 about the decision to allow Luiz to continue playing, former England striker Alan Shearer said: "Football needs to get real and wake up. It needs to get serious, not next month, now. This has been going on for far too long. The [concussion] protocols in football are not acceptable."
Jimenez scored 17 goals as Wolves finished seventh in the Premier League last season.
He had netted four times in nine top-flight appearances this term before Sunday's match and signed a new four-year contract with the Molineux club in October.
'It's something you never want to see' - what they said
Wolves captain Conor Coady: "We were massively worried when it happened. We knew straight away it was a horrible clash of heads.
"But we just hope and pray everything is OK because it's something we never want to see.
"He is with the right people now and that's the most important thing. He is in hospital and, by all accounts, he is awake and breathing."
Arsenal manager Mikel Arteta: "I was shocked because I saw the reaction of the players - they were asking the doctors. We were really worried for Raul Jimenez because it was really nasty."
Wolves forward Pedro Neto: "I was a little bit worried. I didn't see the impact but I heard it. I hope he is OK and can recover to come back with us."
Arsenal midfielder Joe Willock: "On behalf of the club and myself, we give our best regards to Raul Jimenez. We hope he recovers well. It was a bad incident. David Luiz has recovered well. He looked good when I saw him in dressing room."