Northern Premier League, Southern League & Isthmian League to decide how to restart
Last updated on .From the section Football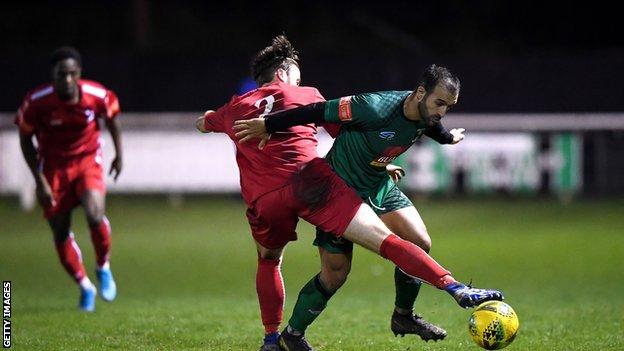 Officials from the Northern Premier League, Southern League and Isthmian League plan to meet on Saturday to decide how to restart their seasons.
Levels below the National League can resume from Wednesday but restrictions on fans and sale of food and drink may make it financially unviable for some.
Clubs in tier three must play without fans and tier two sides must shut their clubhouses unless used as restaurants.
And anything bought as a takeaway would need to be consumed outside the ground.
England's regional tiers - for when the national lockdown ends on 2 December - were announced by the government on Thursday, with restrictions to be reviewed every two weeks.
Many leagues cut across different tier boundaries and, although exemptions have been granted for players and club staff to allow matches to take place, there is uncertainty over whether to restart or not.
Prior to lockdown, matches had been taking place with a limited number of supporters.
While the Northern Premier League, Southern League and Isthmian League hope to come up with a joint plan, many leagues below that level are likely to push their planned restart back by a fortnight at least.
The Northern League, at step five and six of the non-league pyramid, has already suspended its league by a further two weeks - until 16 December - as 37 of its 40 clubs will be under tier three restrictions.
'We won't kick a ball without fans'
Though a decision has not yet been taken at step three and four, some club chairmen are steadfast in their belief that to play without paying fans and income from food and drink sales would be unsustainable.
"I've penned an email to all other chairman in the Northern Premier Division and many have said we'll stand together and not kick a ball without fans," Grantham Town chairman Darren Ashton told BBC Sport.
"We can get up to 7,000 capacity so we can easily socially distance, but we've got to have the bar and canteen open.
"They generate a lot of the money and without them open it's a token gesture [to allow a percentage of fans in]."
Peterborough Sports play in the Southern League Premier and their chairman Grant Biddle expects their season to be suspended, with a likelihood of the campaign once again not being completed.
"Do you think much is going to change between now and March? I don't," he said. "I suspect we're going to get a foreshortened season with some sort of points-per-game formula.
"Coincidentally most clubs had eight to 10 games of last season left when the first lockdown hit, and have all played eight to 10 games this season - the club said back in March to forget this season and focus on completing the 2019-20 season when it's safe, and it's baring fruit."
'Non-league football is in chaos' - analysis
BBC Sport's Simon Stone
Non-league football is in chaos as officials try to wrestle with the impact of the reinforced tier system.
These restrictions have led many to question the viability of hosting games given the vast majority of income at that level is derived either from fans entering grounds or spending on food and drink inside them. In addition, at the higher level, some clubs have players and staff on furlough.
It is possible clubs will be able to access funds provided by the government but it is unclear whether this would be in the form of loans - which most would not want to take on - or grants, and what the regulations around them would be.
Leagues in northern England in particular have already been badly disrupted this season. In the North West Counties League, some clubs have only played two matches, while others have had seven.
In addition, there is uncertainty over Boxing Day fixtures as it is feared many volunteers will opt not to go to games given the relaxation of the rules around meeting family members over the Christmas period.