Grassroots football: Sir Patrick Vallance 'not aware' of Covid-19 transmission in children outdoors
Last updated on .From the section Football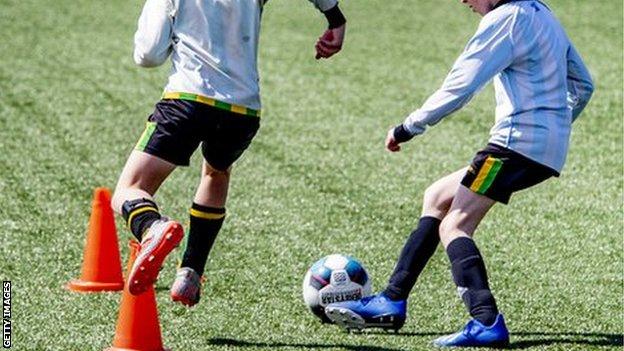 The government's chief scientific adviser says he is "not aware" of any cases of Covid-19 transmission between children playing football outdoors.
Youth sport will only be permitted in schools.
Meanwhile, England Golf and the Lawn Tennis Association admitted defeat after both had hoped for exemptions from the government.
The general public will not have access to facilities to play the sports from Thursday.
Baroness Grey-Thompson also said the decision to shut gyms was "incredibly disappointing on many levels".
England's chief medical officer Professor Chris Whitty and chief scientific adviser Sir Patrick Vallance were asked about the suspension of youth sport in a science and technology select committee meeting on Tuesday.
Vallance said the measures also took into account "interactions" at events such as grassroots sport outside school.
When asked by chairman Greg Clark MP whether he knew of any instance of coronavirus infection taking place between children playing grassroots football, Vallance said: "Not that I'm aware of. There may be evidence, but I haven't seen it."
Clark said the ban on youth sport seemed "perverse" given the low transmission rates outdoors and the importance of exercise for children and asked whether it was something Vallance could "further advise" the government on.
"We've been very clear as to where we think the areas of transmission are most likely to be," said Vallance.
"But we must also be very clear that an entire package must take into account everything, including interactions around events, which become quite important.
"Then it's for policy-makers to decide what policies they want to adopt on the basis of that."
When asked by Clark whether they advised the government that outdoor children's sport should be banned, Vallance said: "They've had advice from us in terms of the general principles but not down to specific individual activities like that."
Whitty added it would be "deeply unhelpful" for them to start "trying to unpick really difficult packages" that the government had put together by advising them to reverse a ban on children's grassroots sport.
He said: "This is a difficult balancing act across government. We fully understand that and our job is to give the broad advice and then leave it up to them to integrate the various elements."
Elite sport can continue behind closed doors during the lockdown.
There were calls for youth sport to be exempted when the new restrictions come into effect on Thursday.
Former Wales midfielder Robbie Savage, who coaches a junior team, criticised the decision to suspend children's sport in a series of tweets, asking Culture Secretary Oliver Dowden whether he realised "the impact of this decision on youngsters' mental and physical wellbeing".
Golf courses and gyms to close on Thursday
The All-Party Parliamentary Group for Golf (APPGG) wrote to Prime Minister Boris Johnson on behalf of golfing authorities and other leading groups from the industry to make the case for golf to be exempt from tightened restrictions.
However, the group's chair, North Warwickshire MP Craig Tracey, said there was "no more that can be done" to persuade the government to change its position and England Golf chief executive Jeremy Tomlinson has written to the organisation's members to confirm the news.
Tomlinson wrote: "It is with a feeling of deep regret that we must now inform all affiliated golf clubs and driving ranges that they should prepare to close from Thursday 5 November until Wednesday 2 December 2020.
"England Golf, as the governing body for the amateur game and alongside our colleagues in the All-Party Parliamentary Group for Golf, respectfully, but vigorously challenged government to argue the case for golf courses to remain open.
"As an open-air sport played by limited numbers in a vast outdoor setting which naturally lends itself to social distancing, we lobbied that golf should continue to be played in accordance with our government-approved 'Play Safe, Stay Safe' framework."
Tomlinson said golf offered both physical and mental health benefits to participants but asked clubs to "respect the legislation" that comes into force overnight.
Scott Lloyd, the LTA chief executive, said the risk of contracting Covid-19 from tennis is "incredibly low".
He added: "It is disappointing that millions of other people in this country will be denied the benefits of our sport at a time when it is more important than ever that the nation remains active.
"This will have a particular impact on those for whom sport is especially important, including disabled people and children and young people."
Meanwhile, Baroness Grey-Thompson, chair of UKactive, fears closing gyms during lockdown will have "severe repercussions for the nation".
"There are many people all over the country who will have been thinking about how to get fitter and healthier, along with their families, and they would've been looking to our sector to support them during this tough winter to do that," she said.
"It does feel like such a misstep that the government has not heeded our strong and continuous calls to categorise our sector as essential and acknowledge the astonishing safety standards that are our sector has sustained throughout this period."