Manchester United financial statement shows £70m drop in expected revenue during pandemic
Last updated on .From the section Man Utd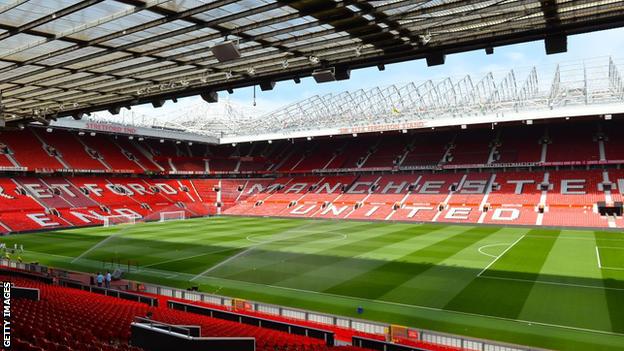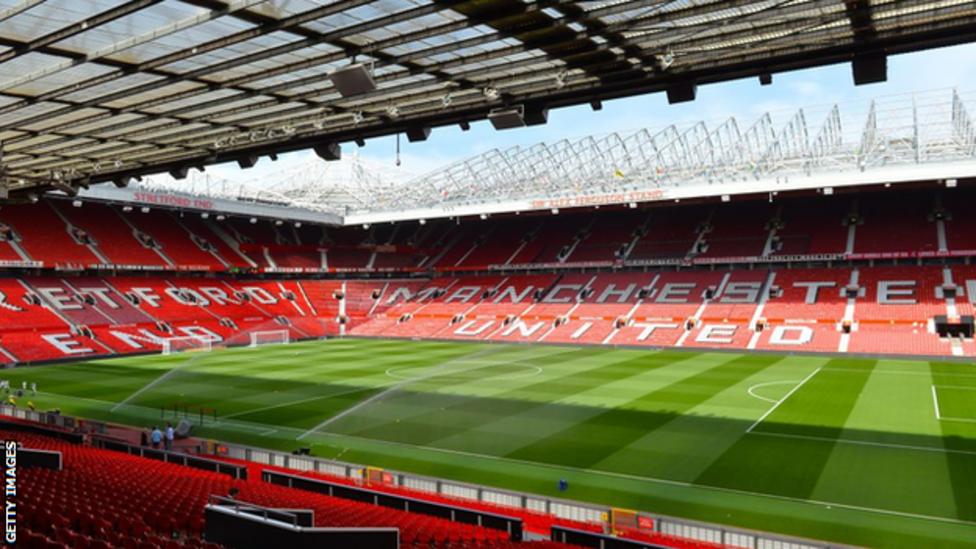 Manchester United suffered a £70m drop in expected revenue in the period to 30 June 2020 as a direct result of the coronavirus pandemic.
The figures in United's 2019-20 financial statement includes the period when English football shut down.
United's overall revenue was down 18.8% from £627.1m to £509m, but part of this was due to the club not qualifying for last season's Champions League.
In last year's statement, United had estimated revenues could reach £580m.
Net debt more than doubled from the previous year to £474.1m.
The club spent around £75m in the summer transfer window.
United made a net £18.9m profit in 2018-19 and a net £23.2m loss in the most recent financial year.
It was also confirmed within the results United had paid out £23.23m in share dividends over the course of the year, although future payments are under review.
English football was halted in March in response to the pandemic and since the restart in June has been played without fans.
Speaking on Wednesday's conference call with investors, United executive vice-chairman Ed Woodward urged the UK government to follow examples around Europe in allowing fans back "as soon as it is safe to do so" and said the "inconsistencies" in the rules were "frustrating".
"If people are allowed to sit in a plane for hours, or in the cinema, or even watch football in a cinema why not outside in a stadium environment which is professionally managed and controlled." said Woodward.
He also confirmed the club played an "active role" in plans know as Project Big Picture, which was rejected by Premier League clubs last week, while he distanced United from reports of the creation of a new European Premier League.
On Tuesday, talks were reported to have taken place over the creation of a new £4.6bn European Premier League, involving the top sides from across the continent.
"Saw reports. Don't know where it came from," added Woodward.
Last week Premier League clubs rejected 'Project Big Picture' - a proposal to reduce the league from 20 to 18 clubs and scrap the EFL Cup and Community Shield. It would also have seen more power transferred to the so-called 'big six' Premier League clubs.
"There will always be intense debate around any changes to the structure of football, just as there was before the formation of the Premier League 28 years ago," added Woodward.
"Now, at this critical juncture for the game, we must ensure that the huge success of the Premier League is reinforced while ensuring that the wider football pyramid continues to thrive in a rapidly changing media environment. Achieving this will require strategic vision and leadership.
"We are pleased that the Premier League has committed to work together on a plan for the future structures and financing of English football. Now it must deliver on that promise, and we are committed to playing a leading role in pushing that process towards a successful outcome."
All areas of United's income have been affected but broadcasting revenues were especially badly hit, reducing 41.9% from £240.2m to £141.2m.
The club also confirmed net finance costs had increased by £3.5m to £26m. However, officials have stressed that despite the enormous rise in United's debt, up 132.9% to £474.1m, this was due to a reduction in cash reserves and the principal debt remains unchanged.
United has also announced a six-month extension to their shirt sponsorship deal with Chevrolet, which is now due to expire on 31 December 2021.
Analysis
Many Manchester United fans dismiss messages from Old Trafford about the financial impact of Covid-19 because they argue far more is lost through financial charges that have to be paid due to the club's debt than because of the pandemic.
Even today, £26m-worth of finance costs were included within United's financial statement.
This was anticipated though, given it is how the Glazer family have chosen to structure the club.
What would not be prepared for were closed-doors matches, rebates to broadcasters and the famous 'Megastore' being shut. This has been costed at about £40m. Some of the remaining £30m will be clawed back because the season finished three months late.
However, £50m-worth of season-ticket money was not received as anticipated by 30 June and cash flow was reduced by £80m due to deferred payments from sponsors, some of which have now been received, but others haven't.
It all adds to a confused and uncertain picture, which possibly explains two things.
Firstly, why the managing director made a point of talking about United's work in developing a media strategy from China, where the Premier League has had to ditch its broadcast partner and, secondly, why Ed Woodward spoke about the 'Project Big Picture' talks the club have been involved in and outlined the need to "reinforce the huge success of the Premier League" at what he called "a critical juncture for the game".
Neither of these subjects needed to be covered - the conference call they were discussed on was for investors, not media - and, in that, there were only two questions.
But those investors are interested in the bottom line. It was not by accident, Arnold said the club were: "Relentlessly pursuing growth opportunities for our brand."
Evidently, China is a growth market. But so too, potentially, is the Premier League and international football. Through Project Big Picture and a European Premier League, big clubs could earn far more than they do.
Woodward said he had no idea where the latter story had emerged from and he was committed to talks with Uefa about the format of European football from 2024 onwards.
We don't know how that will turn out just yet - but on the day when they confirmed the huge financial hit they have taken, United are making it clear they, along with other heavyweight clubs at home and abroad, are looking at ways to generate more revenue, not less.