Crowd pilots: Eight English Football League weekend games to host up to 1,000 fans
Last updated on .From the section Football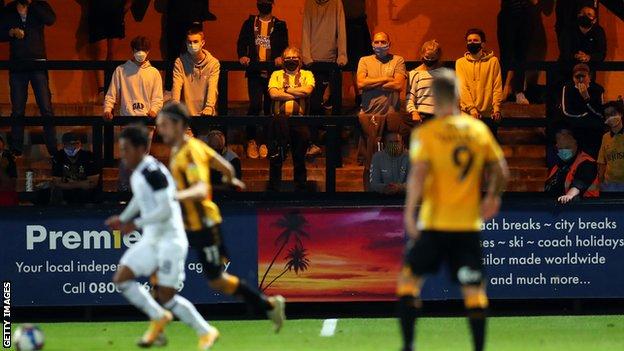 Up to 1,000 fans will be allowed to attend eight different English Football League games this weekend as part of the government's crowd pilots.
Ten home clubs had been permitted to host pilots, but Luton and Morecambe pulled out on Wednesday, saying they did not have enough time to prepare.
Discussions between the EFL and the government about a return for more supporters from 1 October continue.
No fans have attended an EFL fixture since March because of coronavirus.
Three Championship games, four League One matches and three in League Two were chosen for this weekend, prior to Luton and Morecambe electing not to take part.
The following games, all taking place on Saturday, are set to have up to 1,000 fans each (all kick-off times 15:00 BST unless stated):
Championship
Middlesbrough v AFC Bournemouth

Norwich City v Preston North End
League One
Blackpool v Swindon Town

Charlton Athletic v Doncaster Rovers

Hull City v Crewe Alexandra

Shrewsbury Town v Northampton Town
League Two
Carlisle United v Southend United (13:00 BST)

Forest Green Rovers v Bradford City
"It's encouraging that we are in a position to move forward with the next phase of the pilot programme and give a small number of our clubs the opportunity to welcome back up to 1,000 fans this week," said EFL chair Rick Parry.
"The health and wellbeing of supporters and their wider communities remains the priority, but as we showed at Cambridge [in a crowd pilot at 8 September's EFL Trophy game], social distancing can be applied safely.
"The requirement to welcome spectators back through turnstiles has not diminished in any way, the financial challenges facing EFL clubs have been explained on numerous occasions, they are substantial and a problem that requires immediate solutions."
Culture Secretary Oliver Dowden added: "I know that many fans are eager to return to football and that jobs depend on this too, so fans will welcome [this] news.
"This will help us build the evidence base to see how we can return fans safely in greater numbers as soon as it is safe to do so."
Luton and Morecambe pull out of crowd pilot
About one hour after the EFL announced Saturday's permitted events, Luton issued a statement declaring they did not have enough time to prepare for their crowd pilot.
"On Tuesday at around midday, having received an email from the EFL asking for clubs to volunteer to take part, we put ourselves forward," the club said. "We responded within the hour because, like many clubs, we are desperate to have our supporters back inside Kenilworth Road.
"To stage a game with supporters here would take a lot of preparation time, and unfortunately, despite asking again from very early this morning, we had heard nothing from the league until a few minutes before they issued their statement stating that we were one of the clubs taking part.
"Sadly, this does not give us enough time to get ready so we are unable to host spectators here for the Derby match.
"We understand that the EFL are beholden to DCMS [government department for digital, culture, media and sport], but to request clubs to offer and then not back up quickly, knowing there is such little time to prepare, is very disappointing and we are sorry to disappoint supporters who may have raised hopes of attending Saturday's match."
League Two Morecambe said they were "grateful" to the EFL for approving their application but co-owner Colin Goldring said they "are not in a position to complete the regulatory work and get this signed off in time for this weekend's game".
Plans for third-full grounds from October 'under review'
It is understood that only a limited number of pilot events were available for home clubs to apply for and any teams based in communities which are currently under local lockdown restrictions were excluded from applying.
Last week, the government restricted pilot events to 1,000 spectators after a rise in coronavirus cases, and said plans for grounds to be up to a third full from 1 October would be reviewed.
The Premier League has already written to the government over pilot plans and says about £100m per month will be lost by clubs across the leagues while matches continue behind closed doors.
It is one of a number of sports bodies to have voiced concerns at the financial impact of an extended period with empty venues.
Last Saturday's Women's Super League match between West Ham United and Arsenal saw 734 attend at Chigwell Construction Stadium in the first fans pilot at an English professional league game since the outbreak.