Players in Scotland poised to face new Covid-19 sanctions
Last updated on .From the section Scottish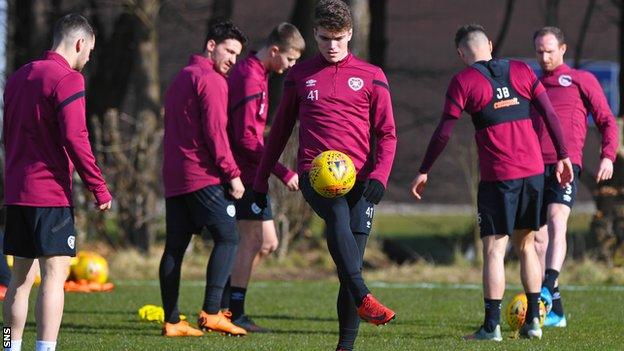 New sanctions for footballers in Scotland who do not adhere to Covid-specific protocols and guidelines will be announced on Friday.
Breaches led to three Scottish Premiership matches involving Aberdeen and Celtic being postponed this week.
Second-tier Hearts have been left "incensed" that they have been told to pause training ahead of stricter rules.
Scottish football's joint response group says sanctions "will encompass recent breaches".
Eight Aberdeen players, two of whom have since tested positive for Covid-19, have apologised for a "huge error of judgement" in attending a bar after their opening fixture in the Scottish Premiership.
Meanwhile, Celtic defender Boli Bolingoli left manager Neil Lennon "livid" by not going into quarantine following a trip to Spain before playing against Kilmarnock.
First Minister Nicola Sturgeon warned that Scottish football was on its final warning and, following a meeting between its joint response group and the Scottish government, "a wide range of measures" have been agreed to strengthen protocols.
"The JRG has worked to ensure that existing rules will be strengthened to include the provision of sanctions for players who do not adhere to Covid-specific football protocols or government public health guidelines," a statement said.
It added that the measures were needed "in order to provide government health officials with the necessary confidence that Scottish football can return safely".
"The Scottish FA has agreed that the return to training for clubs outside the SPFL Premiership - which includes all organised adult football over-18 - will be delayed until at least 24 August, pending updated government guidance on the 20th," it added.
Hearts say they have "objected to this decision in the strongest terms" and are "currently considering our options".
The Edinburgh club point out that, unlike other Championship clubs, they took up the option of returning to training on 3 August and now feel they will be disadvantaged in the build up to their Scottish Cup semi-final against city rivals Hibernian, which comes shortly after their league season begins in October.
Hearts stress that "we have done nothing wrong" but feel they "are being disproportionately disadvantaged... because of behavioural issues, not by our employees but by those of other clubs".
National clinical director Jason Leitch told BBC Radio Scotland that it had been a league decision after being instructed by the government, which wanted no additional clubs to start training, to "tell us how they are going to get their house in order" through sanctions and education.
However, a statement from the joint response group insisted that the pause in all football training beneath the Premiership was part of the agreement with the government.
Scottish Professional Football League chief executive Neil Doncaster said: "The recent, high-profile breaches must be used as further motivation for all those with our game's best interests at heart to comply absolutely with these necessary restrictions and safeguards."
Meanwhile, Glasgow City have been given the green light to continue to train in preparation for their Uefa Women's Champions league tie against Wolfsburg later this month subject to an audit and verification of their compliance with the rules.
However, Scottish Women's Football League chair Paul McManus has also written to the SFA expressing his disappointment that its other clubs have had their training suspended.
Lots of players and staff getting it right - analysis
St Mirren manager Jim Goodwin: "It's difficult to punish clubs as a whole because of one individual. We have had promising dialogue with the players and staff - they are well aware of what's expected of them.
"We have asked everybody for the time being to stay away from restaurants, pubs and nightclubs - and just make good choices."
Dundee United manager Micky Mellon: "On Monday we had a meeting on Zoom [with Leitch] and were told a few things that made it a bit clearer to us.
"Mistakes will get made, sometimes innocent mistakes, and what we have to do is learn from that. I don't know how many people have stepped out of line, but let's start talking about those that haven't and let's do the percentages on that and talk about the people who have got it right."