Celtic & Aberdeen's Scottish Premiership games off after Covid breach
Last updated on .From the section Scottish Premiership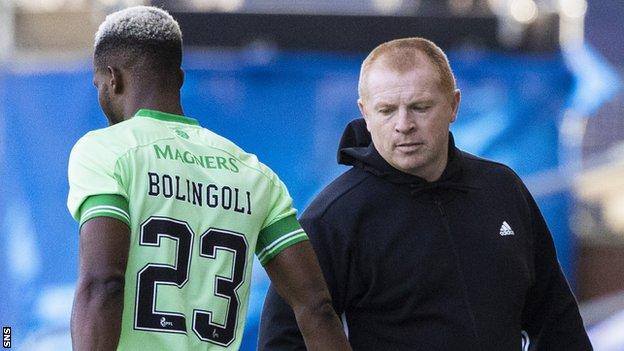 Celtic and Aberdeen have had their next two Scottish Premiership matches postponed after their players broke lockdown rules.
Scotland's first minister Nicola Sturgeon demanded the cancellation after Celtic defender Boli Bolingoli flew to Spain, failed to quarantine, then played in a match.
Ms Sturgeon said this was a "flagrant breach" of the guidelines, while Celtic manager Neil Lennon described himself as "livid" after the "incredibly selfish" player had gone "rogue".
Police Scotland confirmed Bolingoli had been issued with a fixed penalty notice for breaching quarantine regulations.
The previous weekend, eight Aberdeen players broke lockdown regulations by visiting a bar together.
Following the first minister's intervention, it has been confirmed that Celtic's trip to St Mirren and Aberdeen's meeting with Hamilton Academical on Wednesday are both off. So, too, is the game between Celtic and Aberdeen on Saturday.
That comes after Aberdeen's game at St Johnstone last weekend was postponed following Scottish government intervention.
At her daily briefing earlier on Tuesday, Ms Sturgeon said that "as a minimum, you should not be expecting to see Aberdeen or Celtic play in the coming week."
She added: "Consider today the yellow card. The next time it will be the red card because you will leave us with absolutely no choice."
Speaking on BBC Radio 5 live later in the day, national clinical director Professor Jason Leitch said halting Scottish football had been "considered" but that the postponements were a "proportionate response".
"I'm a fan, I don't want to [close down football], but it is available to us and we have to be prepared to use it," he said.
"We have shut high streets, we've shut schools. You have to be able to go backwards if you've gone forwards."
'It's just not acceptable'
Ms Sturgeon said news of Bolingoli's breach came through on Monday while Prof Leitch was meeting with the managers and captains of Scotland's top-flight clubs to reinforce the importance of the guidance.
"This is just not acceptable," she added. "Every day I stand here and ask members of the public to make huge sacrifices on how they live their lives. The vast majority are doing that and it's not easy.
"We can't have privileged football players just deciding they are not going to bother. This can't go on."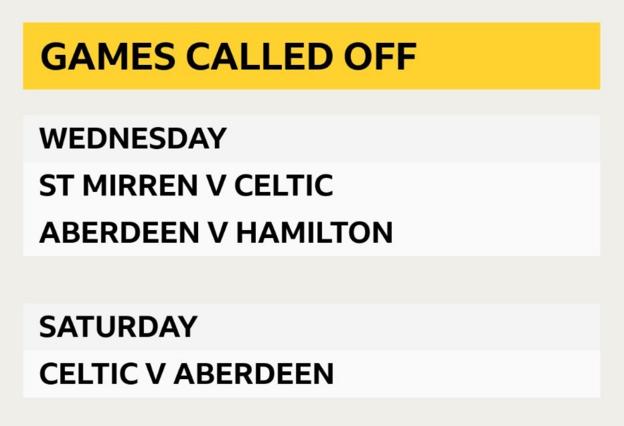 The first minister said she did not want rule-abiding clubs and players, as well as fans, to be punished for the individual breaches.
But she indicated "very clear penalties" will be in place for players and clubs when rules are breached.
Prof Leitch said Bolingoli had travelled to a "high-risk country" then appeared as a substitute in Sunday's draw at Kilmarnock, which "put both his team and the opposing team at risk".
The Belgian defender said he was "guilty of an error of judgement" and apologised, as did Celtic, who said his actions were "beyond explanation".
All players and backroom staff have since been tested twice and returned negative results.
Uefa has confirmed that, as it stands, Celtic's Champions League first qualifying round match with KR next Tuesday in Glasgow is scheduled to take place as planned.
Eight Aberdeen players apologised on Saturday for visiting a bar at the centre of a Covid-19 outbreak.
Two of the players later tested positive for the virus, while six are currently self-isolating.
In announcing the postponements, Scottish football's Joint Response Group (JRG) said it had "offered to work on a range of measures" to try to avert future breaches.
Chair Rod Petrie said it was "deeply regrettable" that games have had to be called off, but that it was "unavoidable and incontestable".
He said the group was "astounded to learn of the recklessness" shown by Bolingoli, in the wake of the "similar disregard" shown by the eight Aberdeen players.
"Clubs and players are in no doubt that there is now no more margin for error and no more scope for further breaches," he added.
The JRG also confirm that the two Aberdeen positives were the only ones among 1414 tests carried out last week among the 12 Scottish Premiership clubs, plus Hearts and Glasgow City.