Aberdeen's Covid-19 cases: The key questions
Last updated on .From the section Aberdeen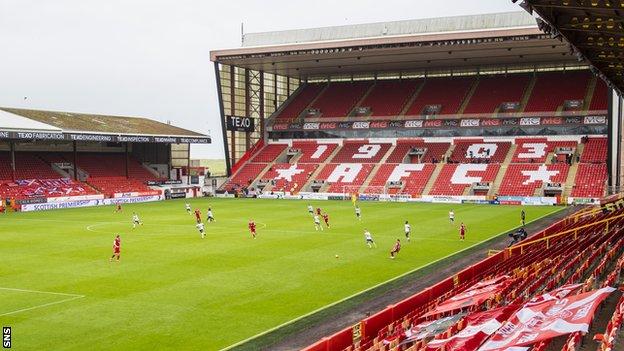 It started with the news that the city of Aberdeen had been locked down on Wednesday following a cluster of coronavirus cases.
By Thursday night, eight Aberdeen players were self-isolating, two having tested positive for Covid-19. And by Friday lunchtime the Pittodrie club's Scottish Premiership game at St Johnstone the following day was postponed.
So where does this leave Aberdeen, and what does this mean for the nascent Premiership season?
What do we know?
Two Aberdeen players have tested positive for Covid-19 as part of the club's mandatory, twice-weekly private testing regime. The first had his confirmed by a follow-up NHS test and the other is awaiting further results.
Both are asymptomatic but are self-isolating. So, too, are six team-mates who were in "close proximity" to them on Saturday night at a pub in the city that has since been linked to a cluster of cases.
At the time, bars and restaurants were open to the public but have been closed in Aberdeen since 17:00 BST on Wednesday. People have been told not to visit the city and those living there face travel restrictions.
The player with the first positive test will self-isolate until 15 August, with the remaining seven doing so until 19 August. All eight were due to miss Saturday's match with St Johnstone and games against Hamilton Academical on Wednesday and Celtic the following Saturday.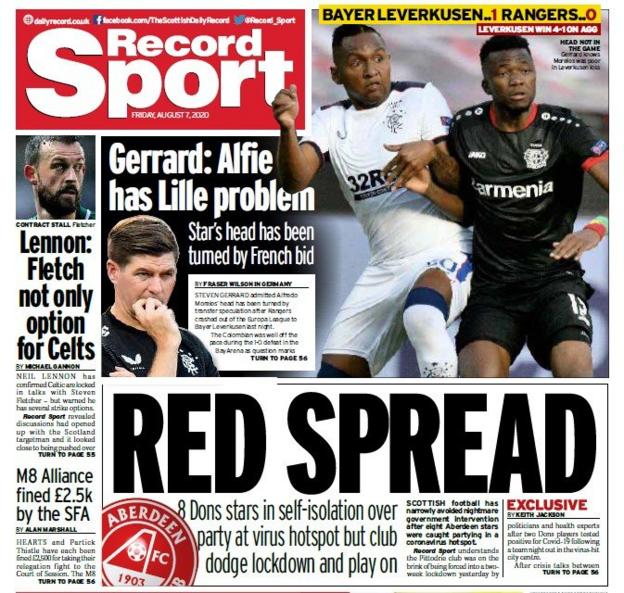 Why was St Johnstone v Aberdeen postponed?
Late on Thursday, the Scottish FA and SPFL joint response group confirmed the fixture remained on after talks with the Scottish government. This was despite Aberdeen cancelling the day's training.
The authorities had previously confirmed matches were not at risk amid Aberdeen's lockdown because clubs are "within a sporting bubble" and are being tested twice a week.
But by midday on Friday, following a meeting between sports minister Joe Fitzpatrick and the SFA and SPFL, the game was called off at the Scottish government's request. Fitzpatrick wants "further assurance around Aberdeen FC's adherence to the agreed protocols".
And first minister Nicola Sturgeon didn't hold back in her criticism, saying the players "blatantly broke the rules" and describing their behaviour as "completely unacceptable",
Sturgeon added that "even the small risk" Aberdeen spread the infection to other parts of the country meant Saturday's game in Perth could not go ahead.
Could Aberdeen be punished?
SPFL rules state the club responsible for failing to fulfil a fixture would be liable to pay any expenses incurred by the opposing team.
And, such is the seriousness of the breach, Aberdeen have also left themselves open to the possibility of a misconduct charge from the Scottish FA.
The postponement also reflects badly on Scottish football, as St Johnstone v Aberdeen was supposed to be shown on Sky Sports as the only UK match televised live on Saturday.
That now leaves a gaping hole in the broadcasters' schedule in just the second weekend of their new five-year deal with the SPFL.
What about Aberdeen's next two games?
The SPFL has confirmed the fixtures at home to Hamilton on Wednesday and away to Celtic next Saturday are scheduled to go ahead as planned.
Derek McInnes' side - who lost their opener to Rangers last weekend - will be without the eight unidentified players for those two matches.
Those players will, however, be available for the rearranged meeting with St Johnstone on Thursday, 20 August.
Further postponements - which remain a risk - would put an already strained fixture list into crisis. There are only 34 available fixture dates to complete the 33 pre-split rounds of games, leaving little room for postponements or Scottish Cup replays.
SPFL secretary Iain Blair has previously spoken of the "very real risk" that teams may have to play four games in eight days.
So what are the club saying?
Chairman David Cormack says the club were "fully prepared" to play St Johnstone on Saturday due to "the pressure over this season's fixtures, and the fact that we caused this problem".
He is "very grateful" the club do not have to forfeit the game and has apologised to the football and health authorities as well as fellow Premiership clubs.
The club will be conducting a full investigation and Cormack says the situation is "a harsh reminder of the severity and speed of spread of the virus".
He added: "Regrettably, what has happened in the last few days has undermined all the hard work that has gone into keeping our players and staff safe. our already rigorous measures are being forensically scrutinised and no stone will be left unturned in ensuring that no one is under any doubt about what must be adhered to."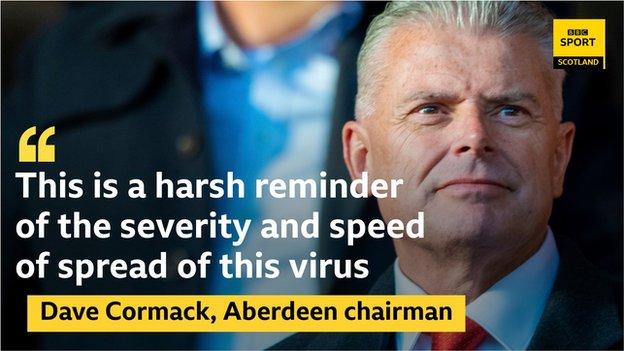 What does this mean for the season?
Sturgeon warned Scottish football's return is "at risk" if there are further instances of players flouting the guidelines.
"I'm pretty furious about this situation, because it shouldn't have happened," the first minister said. "The decision to allow elite competitive sport to get up and running again wasn't one we took lightly - there were lots of reasons why that was something we were quite nervous about.
"But we got to the point of giving it the go ahead because a lot of work went into agreeing the guidance that underpins it, so it was very much conditional on that. So if that guidance is not going to be adhered to, then all bets are off. So let's hope this is a salutary lesson to everyone."
Clubs will be reminded of their responsibilities by the Scottish government and twice-weekly testing will continue, with negative tests having to be returned before players can take part in games.