Arsenal plan to make 55 staff redundant because of coronavirus pandemic
Last updated on .From the section Arsenal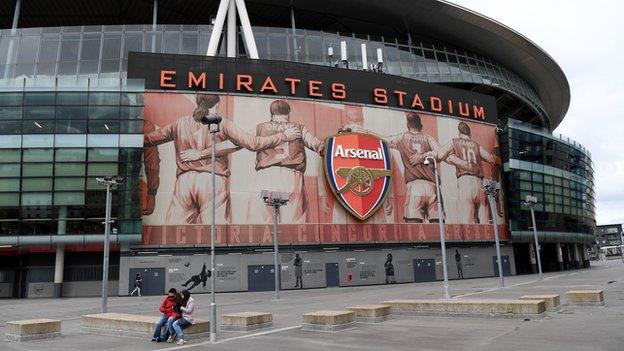 Arsenal plan to make 55 staff redundant because of the financial impact of the coronavirus pandemic.
Arsenal's executive team also agreed to waive more than a third of their salaries over the next 12 months.
However, the club say they now face "more significant and longer-lasting reductions in our revenue than we all hoped".
Arsenal added they did not take the decision to propose redundancies "lightly" and had looked at "every aspect of the club and our expenditure before reaching this point".
"We know this is upsetting and difficult for our dedicated staff and our focus is on managing this as sensitively as possible," the club concluded in a statement.
The redundancies are in the football, commercial and administration departments, with the majority coming in the latter two.
There will also be cuts to staff benefits, capital projects and discretionary projects, but investments will continue to be made in the playing staff and Arsenal's transfer plans are unaffected.
The Arsenal Supporters' Trust (AST) told BBC Sport it is looking for more information from the club to explain the plans.
In a statement, AST said it had hoped the players' wages cuts "would be used to ensure all Arsenal staff are looked after in these difficult times".
It added that it would be contacting the club to make sure that the staff let go "are given as much support as possible".
Arsenal, who won a record 14th FA Cup against Chelsea on Saturday, cited the loss of revenue from fans likely not being able to return to Emirates Stadium for the start of the 2020-21 season and only in limited numbers after that.
They said revenue from broadcasters, matchday and commercial activities had all been "hit severely" and that the club are facing one of the "most challenging periods" in their history.
The statement said agreed wage cuts and investment from owner Stan Kroenke had helped "reduce the impact of the pandemic on the club" and "maintain investment in the team".
However, they added: "It is now clear that we must reduce our costs further to ensure we are operating in a sustainable and responsible way, and to enable us to continue to invest in the team."
The proposals will now enter a 30-day consultation period.
Analysis
BBC sports editor Dan Roan
By becoming the first Premier League outfit to announce major job losses, Arsenal have issued a stark reminder of the unprecedented financial pressure that even big clubs find themselves under after a long period without matchday revenue, with less broadcast income than anticipated, and with the prospect of many months until grounds are back to full capacity.
At a time when the government is keen to see the Premier League do more to help lower league clubs survive the Covid-19 crisis, it also shows how difficult those negotiations could be.
However, many will ask whether it is right that so many lower-paid staff jobs are being lost at an estimated annual saving of around £2m when Arsenal are paying Mesut Ozil £350,000 per week, and are reported to have offered Pierre-Emerick Aubameyang a new £250,000-a-week contract.
The club have made clear that they have received "significant financial support" from owner Stan Kroenke for the refinancing of stadium debt. But it has not gone unnoticed that the American's wealth, already estimated at $8.3bn (£6.32bn), has reportedly increased by $400m (£305m) during the pandemic.
Arsenal will make the point that, despite an annual wage bill of around £230m, the players have agreed to a wage cut to do their bit, along with executives. And that at a time when there is no hospitality business for instance, that they have to prioritise their core product - the team - and make some tough choices.
But after both Spurs and Liverpool reversed their controversial decisions to put non-playing staff on furlough when the season was suspended amid fierce criticism from fans, it will be interesting to see if Arsenal stand firm or reconsider this move.