Sheffield Wednesday deducted 12 points for 2020-21 season
Last updated on .From the section Sheff Wed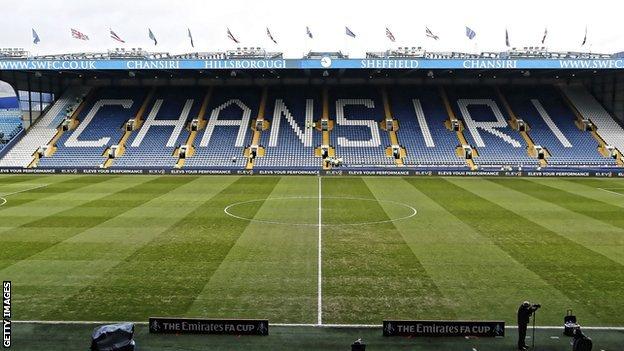 Sheffield Wednesday have been deducted 12 points by an independent disciplinary panel for the 2020-21 season for breaking spending rules.
They breached rules by including the sale of their Hillsborough Stadium home in their 2017-18 accounts despite the ground being sold a year later.
But they were cleared of "breaching its duty of utmost good faith to the EFL by deliberately concealing information".
The Owls say they are "extremely disappointed" by the points deduction.
If the points deduction had been imposed on the Yorkshire side for the recently completed 2019-20 season, they would have finished bottom of the Championship and been relegated.
It would also have rescued Charlton Athletic from an immediate return to League One. However, the relegation places in the second tier remain uncertain as Wigan Athletic appeal against their own 12-point deduction for going into administration.
Charlton have said they are considering a legal challenge.
"We fail to understand why the deduction will take place next season rather than the current season, which seems to be irrational, and are writing to the EFL to get an explanation of the justification," the London club said in a statement.
The decision to deduct points next season for an historical breach of profitability and sustainability rules was reached by the independent panel, whereas Wigan's point deduction was triggered by league rules relating to insolvency events.
Wednesday, who "welcome the decision that the commission cleared" them of "acting in bad faith", said they will await written reasons from the disciplinary panel before considering any appeal.
It took eight months and 17 days for Sheffield Wednesday to learn of their punishment, having initially been charged with misconduct in November 2019.
The independent disciplinary commission did not conduct their "full hearing" until June, by which time the season was still going after a three-month hiatus brought about by the coronavirus pandemic.
Earlier in July, Sheffield Wednesday boss Garry Monk said "it makes no sense" that they were still waiting on a verdict.
News of the 12-point penalty came nine days after the extended regular season finished.
Why sell the stadium to club's owner?
The sale of Hillsborough Stadium for £60m and decision to include it in the financial year covering the 2017-18 campaign ensured Wednesday posted a pre-tax profit of £2.5m.
Without it, they would have reported a pre-tax loss of £35.4m and that would have followed on from deficits of £9.8m and £20.8m in the previous two seasons.
Under the EFL's profitability and sustainability rules (previously known as financial fair play), Championship clubs are only allowed to lose £39m over a three-year period.
To avoid a points penalty, such as the one they have now been hit with, a significant sum of money needed to be made.
Wednesday are the first club to be punished for including the sale of their ground in their accounts, however, they were not the first to arouse suspicion for doing so as Derby County, Aston Villa and Reading have all been scrutinised for similar transactions.
Wednesday's charge related specifically to "how and when" the sale of Hillsborough took place, rather than the sale of the stadium itself.