Tom Pope: Port Vale striker handed six-game ban for Twitter post
Last updated on .From the section Port Vale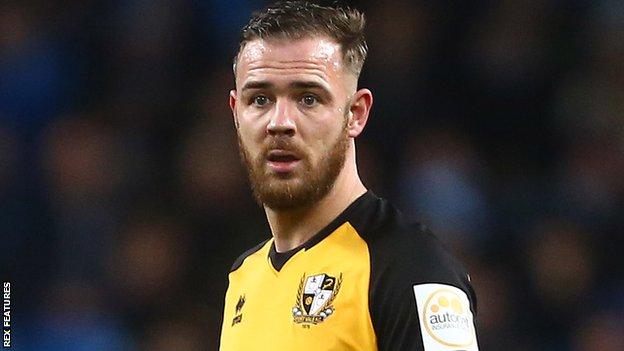 Port Vale striker Tom Pope has been handed a six-match ban by the Football Association for an alleged anti-semitic Twitter post in January.
Pope has also been fined £3,500 and told to complete an education course.
The post appeared after an FA Cup fourth-round defeat by Manchester City.
The 34-year-old was asked to predict the outcome in a World War Three scenario and ended his reply with: "the Rothchilds [sic] are crowned champions of every bank on the planet - the end".
Some Twitter users suggested the tweet - a reference to the Jewish Rothschild banking family - was anti-Semitic. It has since been deleted.
The FA charged him with an "aggravated breach" of FA Rule E3, which he denied.
He was also given a one-match ban in January and fined £1,500 after an independent panel found he had made improper comments on social media, separate to the latest charge.
Pope's defence
After deleting the post, which appeared on 5 January, Pope issued a statement saying that he apologised "enormously" if he had caused offence.
At the time, he became involved in a series of exchanges with other Twitter users as to whether the statement was in fact racist or anti-semitic.
He has now stopped using Twitter and vowed to take up on an offer made by local MP Ruth Smeeth to "provide education to me as to why the Rothschild reference could be offensive."
He also stated: "I am not a racist. I am not anti-semitic. I am genuinely and deeply sorry if I have caused any offence to anyone by that reference. It was absolutely not intentional."
Pope's defence team also pointed out that his posts had been a misguided attempt at humour rather than out of malice.
"Rather than abstain from tweeting, he has a tendency to react instantly to people who he considered were 'taking the mickey out of him' by responding in the same way back," they said.
"When I have discussed this with him in the past, he was clear he always sought to avoid being offensive, but that he saw his responses as a reasonable way of responding to critics.
"As with any public figure, he is subject to constant scrutiny and the abuse that goes with a profile on social media. He has always handled this with a mixture of good humour and sangfroid. What I can say with absolute certainty is that there is no malice of intent in anything Tom says or does. He is an honest, decent person."