Jude Bellingham: Birmingham City teenager highlights 'disgusting' racially abusive post
Last updated on .From the section Birmingham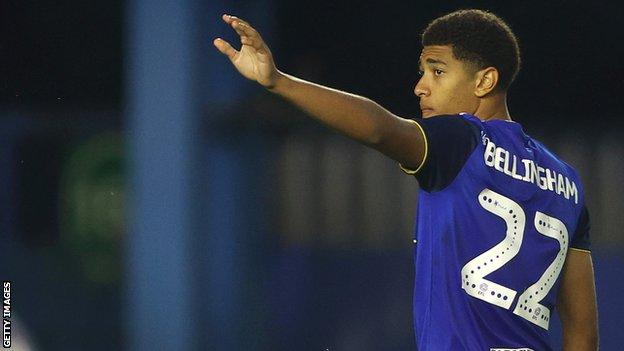 Teenager Jude Bellingham has been the target of racist abuse on social media after an emotional final game for Birmingham City.
West Mercia Police are "thoroughly investigating" a post on Twitter, which Bellingham described as "disgusting".
"Times have to change. More has to be done," he added.
"To not rate me as a player or even dislike me as a person is fine with me. But how someone can use my race and disgraceful stereotypes to criticise a decision I've made for my career is beyond me."
In a statement, inspector Lee Page said: "The comments were reported to West Midlands Police earlier today and the case has been handed to West Mercia Police as the victim lives in our policing area.
"I can confirm that officers are thoroughly investigating these abhorrent comments and we have made contact with the victim and the victim's family.
"I share the opinion of all right minded people that these narrow minded and disgusting comments have no place in society."
Several top-level players, including Crystal Palace's Wilfried Zaha, Sheffield United's David McGoldrick and Bristol City striker Famara Diedhiou, have highlighted abusive messages they have been sent on social media in recent weeks.
Bellingham's emotional Blues farewell
Speaking to BBC Radio WM after Wednesday's 3-1 loss to Derby at St Andrew's, Bellingham said he "can't stop crying" about his exit from the club.
He spent time after the match saying goodbyes to club staff.
Bellingham believes Dortmund is the "best place for me right now to carry on my development", but added: "I do love the club and I struggle to hide it. I know how much this club means to me. I can't stop crying about leaving.
"I just hope they (the fans) have enjoyed watching me play. It will always have a massive place in my heart. It's my club, the club I support, and it's been a privilege to be able to play for this club."
"For me, it's been a dream come true," he said. "Maybe it'll sink in, what I've done and the records and stuff, a bit later. But for now I'm actually quite gutted. I look back with only fond memories."
Bellingham's brother Jobe is in Blues' academy and he is hopeful of returning to St Andrew's one day to watch his younger sibling in action for the first team.
"The thought of that makes me so happy," he continued. "My brother's on my shoulder crying tonight because he loves the club as well, just as much, if not more, than I do.
"He's loved watching his big brother run around and gee up the fans whenever he gets the chance.
"He's hungry and if and when he gets his chance, I'll probably be in the stands cheering him on and falling down loads of rows when he gets his first goal."
'A fitting tribute' - number 22 retired by Blues
Birmingham have said they will retire the number 22 shirt worn by Bellingham.
A piece on the club's website said: "In such a remarkably short space of time Jude has become an iconic figure at Blues, showing what can be achieved through talent, hard work and dedication.
"His caring, humble and engaging off-the-field demeanour has also made him such an impressive role model.
"The 22 shirt has become synonymous with Jude, his rise to the first team aged just 16 years and 38 days and these qualities.
"And as such the club have decided it would be fitting to retire this number, to remember one of our own and to inspire others."