Coventry City announce plans for new stadium on edge of city
Last updated on .From the section Coventry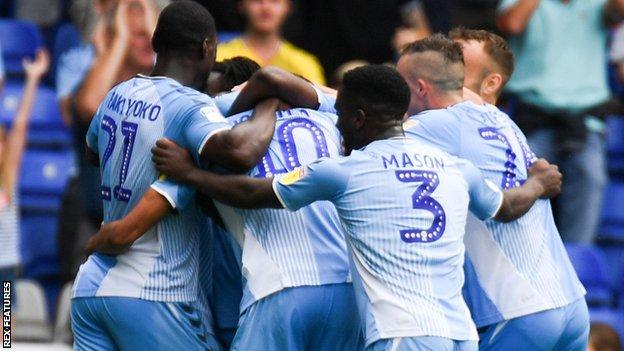 Coventry City have revealed plans to return to the city by building a new stadium as part of a partnership with the University of Warwick.
The club have announced that they intend to relocate to the south-west edge of the city and build on land owned by the university.
The club left the Ricoh Arena in 2019 at the end of a long-running dispute.
City won the League One title in 2019-20 while playing their home games at St Andrew's in Birmingham.
The Sky Blues signed up to move there in the summer of 2019, initially for one season with the possibility of two, but the arrangement was always considered open-ended and City have been made very welcome there.
But their average home league attendance was down from 12,363 at the Ricoh Arena in 2018-19 to 6,677 at St Andrew's.
And, although Birmingham have indicated that they will still host Coventry home games in the Championship, the division in which Birmingham themselves play, the Sky Blues have spoken with Wasps about a potential return the the Ricoh.
A joint statement from the club and the university said both "are committed to a visionary, environmentally friendly stadium in terms of materials, energy, noise, building and of course access".
The statement added: "We envision supporters arriving at the stadium through a new light rail station at the ground running alongside a new link road.
"This will require significant discussion and partnership work with all surrounding local authorities, the West Midlands Combined Local Authority and the LEP to ensure the funding and support is there to provide that infrastructure.
"The club and the university wanted to make people aware of this exciting new development as soon as possible and hope that in doing so, it will pave the way to many discussions needed with a range of partners to progress this project."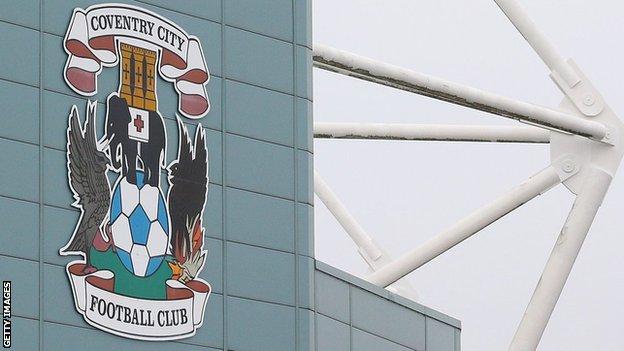 This is a big step forward for the Sky Blues in their search for a new home in the city, but it is still no quick fix to their long-term hope to become stadium owners again. It could still be a long way off becoming reality.
To put the possible timescale of this new project into better perspective, it took eight years after the planned new arena in Coventry was announced in 1997 to it being opened in 2005.
The 32,000 all-seater stadium first got planning permission in 1999, but the design changed and a revised application was finally accepted in 2002.
When BBC Coventry & Warwickshire spoke to Andrew Walster, Coventry City Council's head of planning, in April last year, he advised that it could still take two to three years before any earth was cut.
"To get a sense of the site selection process, I would suggest you are in a four to six-month process," he said. "Then you would have to go through your planning application stage.
"Pre-application and planning could probably take another year. Depending on what time of the year you started, you would also need to consider ecology and a number of other studies on a site, which could add another year to your process."
Coventry City's homes
Coventry have had three 'homes' since 2005, when they left Highfield Road, their home ground for 106 years, after it was sold for housing redevelopment.
Since then, they have not owned their own stadium.
The club originally moved to the purpose-built Ricoh Arena on the north-east edge of the city, separately owned by Arena Coventry Ltd - which was jointly owned by the city council and the Alan Edward Higgs Charity.
The club played for the next eight seasons at the Ricoh until, after a long-running rent row escalated, they began playing 35 miles away at Northampton Town's Sixfields.
They spent the entire 2013-14 season there and the start of the next until they returned to the Ricoh in August 2014. But, within weeks, it was announced that Premiership rugby club Wasps would be moving in.
And, initially assisted by a city council-funded loan, ACL eventually sold the ground to Wasps, who were City's landlords until a year ago.
But it does remain a possibility that Coventry could return to play home games there, while a new stadium is in the planning stage and then under construction. Talks between City and Wasps have been ongoing for a while.
A Wasps official said: "With regards to Coventry City, Ricoh Arena don't have any comment to make at this stage."