Saudi Arabia bans beIN Sport from broadcasting in country
Last updated on .From the section Football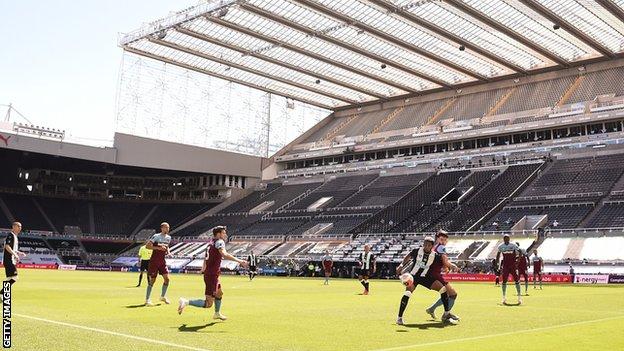 Saudi Arabia has barred beIN Sport - the Premier League's official Middle East broadcasters - from operating in the country.
It means there is now no legitimate way to watch English top-flight football in a nation whose public investment fund is trying to complete a takeover of Newcastle United.
The proposed £300m buyout is awaiting Premier League approval.
"The decision is nonsensical on every single level," said Qatar-based beIN.
The Saudi government claims the broadcaster has "abused its dominant position through several monopolistic practices".
Premier League lawyers have been assessing the proposed Newcastle takeover deal for three months. The league's owners and directors' test looks into the background of prospective club owners.
The UK government has been urged to block the takeover - which is 80% financed by Saudi Arabia's Public Investment Fund - until it investigates alleged TV piracy in the country.
The rights to show Premier League games in the Middle East belong to beIN Sports, which is in the middle of a three-year deal worth £400m.
In June, the World Trade Organization ruled that Saudi Arabia helped breach international piracy laws in relation to the broadcaster beoutQ, which has been accused of illegally showing a range of professional sport, including the Premier League.
Saudi Arabia has always denied aiding the beoutQ operation and has insisted there is no link between its government and the alleged piracy.
Analysis
Dan Roan, BBC sports editor
This is an intriguing twist in this saga, given the sensitivities surrounding the Premier League's protracted consideration of Saudi Arabia's highly controversial takeover bid for Newcastle United.
By permanently preventing Qatar's beIN from broadcasting in the country, Saudi Arabia's authorities have ensured there is currently no legal way to watch Premier League football there. Would they really do that if they were expecting the country's Public Investment Fund (PIF) to imminently buy a top-flight club?
Well-placed sources suggest that this is a natural conclusion to a four-year legal dispute that pre-dates the current diplomatic dispute between Saudi Arabia and Qatar, and should not be interpreted as a sign that the Premier League is poised to reject the Newcastle United deal. Indeed, I am told it is an entirely separate matter from the PIF's hopes that their bid for the club is approved.
It is also suggested the move may be because Saudi Arabia is planning to set up its own sports network to buy TV rights direct from the Premier League.
But for many, it seems a strange move at a time when Saudi Arabia had seemed intent on pleasing the Premier League by promising to crack down on TV piracy, since being criticised in a landmark World Trade Organisation report last month.