Premier League delays decision on summer transfer deadline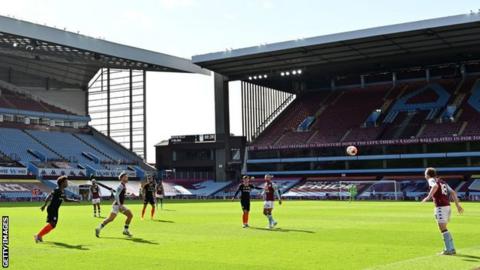 Premier League clubs have delayed a decision about the dates for this summer's transfer window.
Uefa want the window to close on 5 October, before the start of next season's Champions League.
It is understood clubs are considering whether to extend the window for a couple of weeks purely for deals involving Football League clubs, who have been badly affected by Covid-19.
A final decision is likely to be made at a Premier League meeting on 24 July.
It is also anticipated a start date for the 2020-21 season will be confirmed at the next meeting.
Launching the new season on 12 September remains the most likely option but that comes immediately after the September international break.
The Football Association and EFL are concerned the reduced number of match dates will have an impact on their respective cup competitions.
European top-flight to lose over £3bn
Europe's top-flight clubs will lose 3.6bn euros (£3.2bn) up to the summer of 2021 because of the impact of coronavirus.
It is also projected the wage-to-revenue ratio for 2020-21 will be 70.1%, significantly above the 62.9% it was estimated to be before football shut down in March.
The projected figure rises to 76% if the clubs in Europe's top five leagues - England, Spain, Italy, Germany and France - are removed.
The figures have emerged from extensive research carried out by the European Clubs' Association (ECA) across 10 of Europe's most significant leagues - including the Premier League and Scottish Premiership - seven of which restarted their seasons after an extended break.
"The upcoming transfer market will give us the next indication of the state of football's health," said ECA chief executive Charlie Marshall.
"The financial impact does not stop when the game resumes. It will continue into the next season and we must take measures to create a more sustainable football industry in the long run."
Fifa takes over VAR management
The Premier League will have to follow Fifa guidelines regarding the use of the video assistant referee after the world governing body confirmed it was taking over management of its implementation.
The pre-planned move comes at the end of a four-year process during which Fifa worked with the International Football Association Board around VAR, which is now used in more than 100 countries.
Although Fifa has declared VAR to be "a universal success", there has been confusion in the Premier League around such issues as use of the pitchside monitors. Mike Riley - general manager of the Professional Game Match Officials Limited, the referees' body - limited the use of monitors to avoid slowing the game down.
This went against the general guidance and the anticipation is Fifa will expect this to be used more extensively.
In addition, rules around handball, offside and goalkeepers standing on their lines for penalties will all be dealt with through Fifa.