Wigan Athletic: Administrator says there is plenty of interest in buying club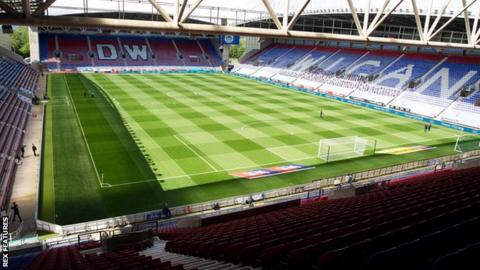 One of Wigan Athletic's administrators says there have been 12 different expressions of interest in taking over the Championship side.
The Latics entered administration on Wednesday citing financial problems caused by the coronavirus pandemic.
They are 14th in the second tier, eight points above the relegation places.
But they face a 12-point deduction this season if they finish outside the bottom three or next season if they end up in the relegation zone.
"I've got 12 interested parties who have emailed me already," said administrator Gerald Krasner.
"I'm going to send out non-disclosure agreements. I'm going to ask for proof of funds because you get some very peculiar people wanting to buy football clubs who have no money.
"When those agreements are returned with proof of funds, those people will get details of what's for sale and then the serious negotiations will start.
"I hope, by the end of July, which is the end of the season, I hope we will have the serious interested parties on board.
"What I predicted yesterday is that we'll get 30 interested parties and if we get that down to two, I'll be fairly happy. Any more, I'd be delighted."
Wigan were in the relegation places at the end of February, but a tremendous run has seen Paul Cook's side rise up the table.
They are the form team in the Championship, unbeaten in nine matches, and have not conceded a goal in their last seven games, winning six of them.
Their Egypt international midfielder Sam Morsy said on Twitter that it was "time to fight now more than ever" while team-mate Chey Dunkley tweeted "in unprecedented times we'll stay strong".
What's the background?
The club were sold by long-term owner Dave Whelan in November 2018 to Hong Kong-based International Entertainment Corporation, led by new chairman Stanley Choi.
There was a further change of ownership in June when Next Leader Fund - in which Choi has a 51% stake - took control.
Under the change of ownership the Next Leader Fund loaned Wigan £28.77m at an interest rate of 8%, rising to 20% if the club defaulted on payments.
Whelan said he would "help in any way" to try and save the club, and Krasner said he would discuss the situation with the 83-year-old former owner.
"I shall be contacting Mr Whelan as soon as possible to see what we can do together and I would ask anyone who wants to help on this to to contact me as soon as possible," he added.
Former manager Gary Caldwell told BBC Radio 5 Live that Wigan would never have found themselves in this situation under Whelan, who bought the Latics in 1995.
"When I was there as player and manager we were in the Premier League, then as manager I was fortunate that we had Premier League parachute payments," said Caldwell.
"But whenever the club was in financial difficulty or whenever they needed to be pulled out of a hole, Dave Whelan put his hand in his pocket and did that.
"Now, I don't know why the finances are in such a position that this has needed to happen but obviously we'll find out hopefully more in the coming days and weeks."