Wigan Athletic in administration: Championship club set for 12-point deduction
Last updated on .From the section Wigan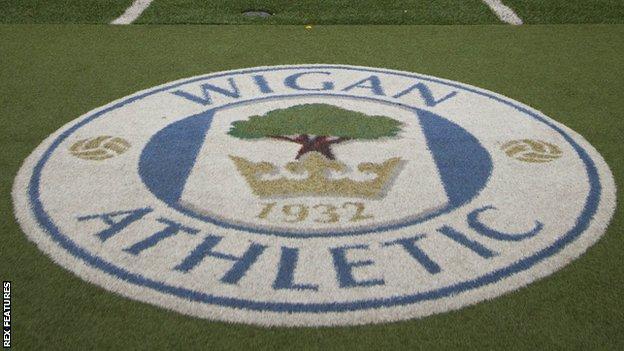 Wigan Athletic have gone into administration, becoming the first English professional club to do so since the coronavirus pandemic began.
The English Football League has said Wigan will be deducted 12 points.
The sanction will be applied at the end of this season if the Latics, 14th in the Championship, finish outside the bottom three after 46 games.
Should Wigan finish in the relegation zone, the penalty will be applied during the 2020-21 season instead.
Wigan have won all three of their league games since the resumption of the Championship season on 20 June and are eight points clear of the drop zone with six matches left to play.
Administration one month after change in ownership
Until 2018, the club was owned by Dave Whelan, who steered them from the fourth tier of English football to the Premier League in 2005, and they also won the FA Cup in 2013.
Whelan sold the club to Hong Kong-based International Entertainment Corporation in November 2018 and there was a further change of ownership in May when Next Leader Fund took control.
Paul Stanley, Gerald Krasner and Dean Watson of Begbies Traynor have been appointed as joint administrators.
Krasner said in a statement that the suspension of the Championship season because of the coronavirus pandemic has had a "significant impact on the recent fortunes of the club".
However, when asked by BBC Radio Manchester how big an impact the coronavirus pandemic has had on the situation, Stanley said: "I don't think it's played a massive part in terms of the way the club's been run, because the club's been run very well.
"The funding that was due to come in from the owners didn't come in. I've had no contact with the owners and I don't know why the funding didn't come in. It might be coronavirus-related, I just don't know."
Stanley also confirmed that the administrators have control over Wigan's DW Stadium and training ground as well as the club itself.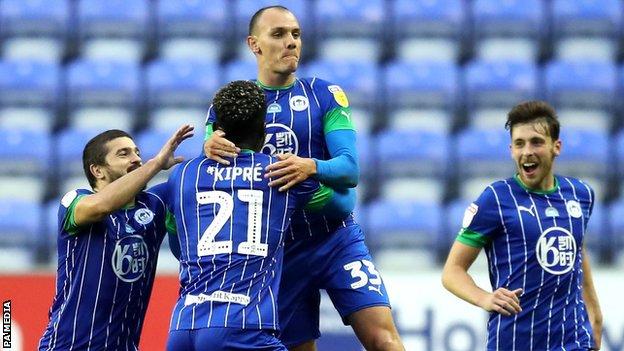 Meanwhile, former Leeds United chairman Krasner told BBC Sport he is "optimistic" that the situation will be resolved.
He said: "We are dealing with some proper people here and I have a lot more information on the situation than I did this morning.
"There are two objectives; firstly to make sure we get to the end of the season, otherwise the club is finished, then to find a buyer.
"All I can really say at this moment is that we have spoken to the EFL and the PFA (Professional Footballers' Association). We intend to speak to the local MP and also the supporters, who we have not managed to speak to yet. I have spoken to the manager (Paul Cook).
"I have been involved at other clubs - Leeds, Bournemouth and Port Vale - although I didn't have the additional problem of a pandemic.
"We need some money really quickly to deal with the situation. I think I have organised that, which will give us some breathing space.
"I have put my neck on the block a few times, particularly at Leeds, but I have not lost a club yet and I am optimistic we will resolve the problem."
The administrators say there have been expressions of interest, while Whelan has said he will see if he can "help in any way".
He told Talksport: "I'll have to stick my nose in a little and have a look, to see if I can find out what's caused it.
"I'll have to just try because the people of Wigan will be in absolute shock, because I am.
"Wigan is Wigan and I built the stadium, so I am going to have to see if I can help in any way, shape or form."
In May, EFL chairman Rick Parry told the Digital, Culture, Media and Sport committee that clubs were facing a £200m financial hole by September and were "stacking up creditors".
EFL matches were suspended in March and, while Championship fixtures resumed on 20 June, League One and Two clubs voted to curtail their seasons early, with many pinpointing financial implications as one of the reasons against returning.
'Wigan may not be alone' - analysis
Simon Stone, BBC Sport
Wigan are the first, but the big question is how many more clubs will enter administration when the full financial impact of the coronavirus pandemic starts to be felt?
When I interviewed Huddersfield owner Phil Hodgkinson in May, his bleak assessment was that "50 or 60" clubs could go bust.
That view was felt to be extreme. However, the brutal truth is football is being played without fans at present. That means clubs such as Manchester United are losing £5m worth of income per game. They, at least, have a massive TV deal to support them.
As you go down the pyramid, the TV income reduces massively. Can League One, League Two and the National Leagues really play to no fans? These are all full-time clubs, many of whom used the government's furlough scheme to shield themselves.
But that option will not exist shortly. Wigan may not be alone.