Nathan Jones: Luton Town reappoint former Stoke City manager
Last updated on .From the section Luton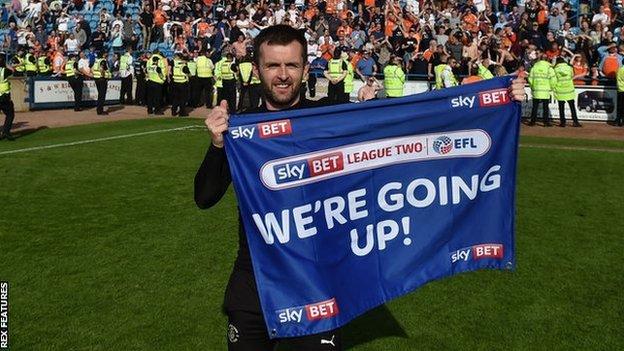 Newly reappointed Luton boss Nathan Jones says he must regain the respect of fans after he "betrayed" them in the way he left for Stoke last year.
The Welshman, 46, has signed a "long-term" deal to return to Kenilworth Road 16 months after choosing to leave.
Jones led Luton to promotion from League Two in 2017-18, before departing in January 2019 when they were second in the League One table.
"I went against everything they'd [Luton supporters] given me," he said.
Jones told BBC Three Counties Radio: "I love the club and I wholeheartedly regret how those events came about because I could've handled that so much better.
"I had a fantastic relationship with the fans - I betrayed that. But I had to earn that, let's not forget, because I wasn't embraced immediately and that's exactly what I intend to do again."
The former Brighton and Yeovil coach - who will be assisted by Hatters legend Mick Harford - was sacked by Stoke in November after winning just six of his 38 matches with the club.
Luton are second-bottom of the Championship, six points from safety, with many second-tier clubs returning to training this week more than two months after the season was suspended because of the coronavirus pandemic.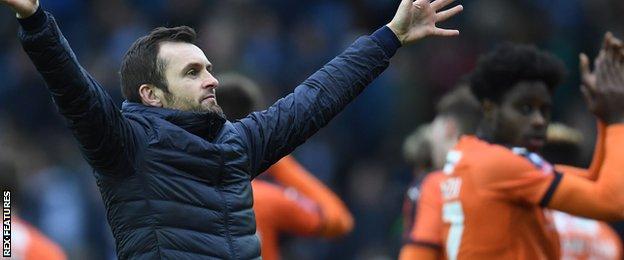 When the Hatters parted company with Graeme Jones last month, they said the decision was "in order to reduce its cost base", adding that they were not considering or reviewing any applications for the role.
"Every observer knows exactly what we thought about Nathan when he left for Stoke and we could hardly hide that disappointment at the time," said chief executive Gary Sweet.
"[But] Nathan's gone to great and humble lengths to make sure that has been fully repaired.
"Let's put any of those differences behind us - one week of madness shouldn't detract from those three fantastic years that Nathan gave us before."
'Jones accepts need to build bridges' - Analysis
Geoff Doyle, BBC Three Counties Radio sports editor
Nathan Jones' departure went down sourly with Hatters fans and the club board. The timing was poor and people felt left down by Jones, who had declared his love for the club so openly.
When he accepted his Manager of the Month award - won with Luton - in his Stoke tracksuit, the betrayal was complete.
But the Luton board has evidently forgiven. These are exceptional circumstances - the Hatters face severe financial consequences if relegated in these coronavirus times.
Jones realises that the manner and timing of his departure was poor and accepts he will need to build bridges and earn the fans' trust again. But he says the motivation to resume the journey and build on what he had achieved previously is now his focus.
He has a huge nine games ahead of him.
He has nothing to lose and not playing in front of supporters could bizarrely be a blessing for him in the early stages as he seeks to win fans around all over again.