Rangers: Scottish FA drops charges over European licence in season 2011-12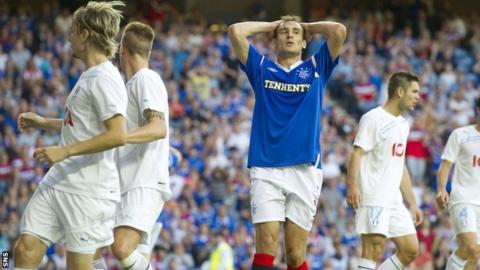 The Scottish FA has decided not to refer a notice of complaint against Rangers, over their European licence for season 2011-12, to the Court of Arbitration for Sport (CAS).
The governing body now "considers the matter to be closed".
Rangers received two charges from the Scottish FA in May 2018 for alleged breaches of rules over the granting of a Uefa licence.
The club successfully argued the case must be dealt with by CAS.
The charges related to financial information Rangers gave to the Scottish FA in the year before the club's 2012 financial collapse.
The Ibrox club were accused of failing to observe the principles of sportsmanship and not "behaving towards the Scottish FA and other members with the utmost good faith".
Now, after two years of deliberations and legal advice, the SFA board has unanimously decided not to pursue the case in the Swiss-based court.
"Following consideration of the implications of such a referral, including legal opinion, it was the board's unanimous position that this matter should not be referred to CAS," the governing body said.
Rangers won the Scottish title in 2011 and featured in European qualifiers - against Malmo in the Champions and Maribor in the Europa League - at the start of the following season. Rangers then entered administration in 2012 and eventually started season 2012-13 in the fourth tier of Scottish football.
To compete in European competitions, clubs must adhere to strict Uefa rules that should be enforced by the country's governing body. The rule in question relates to Uefa's insistence that clubs should have no outstanding payables to tax authorities.
Rangers said they were disputing a tax bill - disputes are allowed - that came to be known as 'the wee tax case' but court testimony during the trial of the club's former owner, Craig Whyte, contradicted this notion.