FA Cup final Rewind: Liverpool v West Ham from 2006 to be shown again in full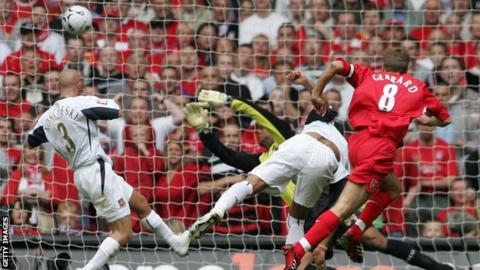 The FA Cup has provided some thrilling, iconic finals over the years.
So when we asked you to pick two classic finals to relive on BBC Sport, you answered in your droves.
Steven Gerrard's virtuoso performance to deny West Ham in 2006 won our vote, and Arsenal's dramatic victory over Manchester United in 1979 came second.
Both games will be shown in their entirety on Saturday, 23 May on the BBC Sport website and on a dedicated FA Cup Channel on BBC iPlayer and Red Button.
Liverpool's win over the Hammers will also receive the full live text treatment on the day that would have seen this year's showpiece game played.
Our FA Cup Channel will also be filled with programmes to keep you entertained and stir emotions throughout Saturday.
What's on our FA Cup channel?
09:00-10:00 - FA Cup Rewind: Sunderland's famous final win against Leeds in 1973
10:00-12:00 - Re-run of Arsenal's 3-2 win over Manchester United in the 1979 final
12:00-12:30 - Football Focus (also on BBC One)
12:30-13:00 - The road to Wembley 2018-19
13:00-13:15 - FA Cup finals from 2010-19
13:15-14:15 - FA Cup's 50 greatest moments (part one)
14:15-15:45 - FA Cup Rewind - Cup final classics (also on BBC One)
15:45-16:45 - FA Cup's 50 greatest moments (part two)
As well a jam-packed FA Cup schedule, Gary Linker, Alan Shearer and Ian Wright will run through their top 10 FA Cup moments on the Match of The Day: Top 10 podcast at 22:20 BST.
Seven-time FA Cup winner Ashley Cole is then set to feature on Match of Their Day at 23:00 BST.
Cole, who won the trophy as a player at both Arsenal and Chelsea, will go over his highlights and disappointments in the competition.
You will be able to watch both shows via BBC One and iPlayer.