Premier League: More clubs open to using neutral venues if relegation removed
Last updated on .From the section Premier League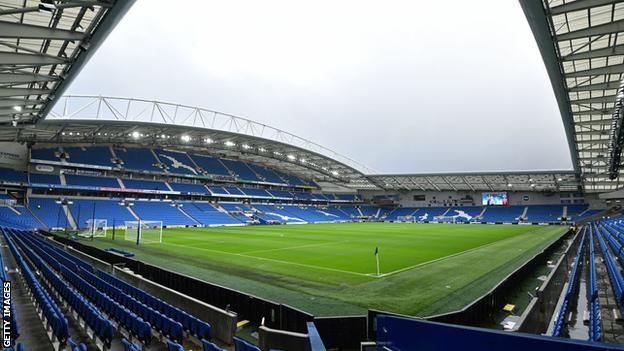 A growing number of Premier League clubs are open to playing the remaining fixtures at neutral venues but with the threat of relegation removed.
Brighton say they are "not in favour" of using neutral venues because it may affect the "integrity" of the league.
Clubs near the bottom of the table feel it is unfair to play in such different conditions when at risk of relegation.
The Premier League has been suspended since 13 March because of the coronavirus pandemic but all clubs are committed to playing the 92 remaining fixtures of the 2019-20 season if and when safe to do so.
Clubs accept matches may need to be played behind closed doors for an extended period and that it may well not be financially viable to wait until normal playing conditions, such as having fans attending, can resume.
However, those near the bottom are concerned playing matches at neutral stadiums, behind closed doors and with the ongoing uncertainty over the availability of players whose contracts expire on 30 June makes for a vastly different situation to that in which their first 28 or 29 fixtures this season were played.
They argue it is impossible to uphold the integrity of the competition under these circumstances.
Brighton chief executive Paul Barber said the club "fully appreciate why playing behind closed doors is very likely to be a necessary compromise to play our remaining games".
However, he added: "At this critical point in the season, playing matches in neutral venues has, in our view, potential to have a material effect on the integrity of the competition."
Clubs who risk losing large amounts of money if relegated are also worried their finances could take a further hit if they still have to play matches behind closed doors in next year's Championship.
If there was no relegation from the Premier League, two or three teams could still be promoted from this year's Championship and a 22- or 23-team top flight run next season.
A major factor in the decision to require neutral venues is reducing the chance of fans congregating, and the selection of grounds will be largely based on a rating from the police and the Sports Grounds Safety Authority.
Not all of the proposed eight to 10 neutral venues will necessarily be Premier League grounds, although the vast majority will be.
Premier League clubs will discuss these issues again after the government's review of the lockdown restrictions on 7 May.
'Obvious disadvantages' to not playing at home - Barber
Brighton are 15th in the league, two points above the relegation zone, with nine games left to play - including home fixtures against Arsenal, Manchester United, Liverpool and Manchester City.
"The disadvantages of us not playing the league's top teams in our home stadium and in familiar surroundings, even with 27,000 Albion fans very unlikely to be present at the Amex, are very obvious," said Barber.
"Clearly, we must accept there may also be some benefit from playing our remaining four away matches at neutral venues but the fixture list simply isn't equally balanced at this stage of the season, and we didn't play our first 29 matches of the season in this way. So, in our opinion, one thing doesn't cancel out the other."
West Ham, who are 16th in the table and only clear of the relegation zone on goal difference, want to play their remaining five home games at London Stadium but feel this does not set them apart from other clubs with major goals still to play for.
Proposals will make games 'safer' than supermarket - Parish
Crystal Palace chairman Steve Parish says football needs to "at least contemplate whether it's possible" to resume using measures such as neutral grounds.
Writing in the Sunday Times, Parish said playing the remaining games would give every club "a fair crack at the best league position they can achieve".
Palace are 11th in the league on 39 points, 12 points clear of relegation and nine points behind Chelsea in fourth, with nine games to play.
"I've seen all the proposals for training and travel and, while there are challenges, those proposals offer a level of protection to players, staff and officials that I believe will render Premier League football one of the safest places in society to co-exist, much safer than a journey to the supermarket at present," said Parish.
He added that the issues facing football could be in place for months and affect next season so "the more we can work out now, the better chance we have of coming out of this with the game we all love in position to recover over time".
However, Parish said that football would not unnecessarily occupy NHS resources or "take testing capacity from one person in greater need".
He added that the "issue of player and staff welfare has to be treated with the utmost seriousness". Manchester City striker Sergio Aguero has said players are "scared" about returning to action amid the pandemic.
Southampton chief executive Martin Semmens told BBC Radio Solent that it would not be appropriate for the Premier League to plan for an immediate return.
However, he said the league and clubs "must plan for how we will bring our business back, otherwise there will be no business and there will be no football club".
Former Liverpool and Newcastle defender Jose Enrique, who now works as a football agent, said many players were concerned about the current situation, especially those whose contracts expire on 30 June, which is likely to be before the season ends.
He told BBC Radio 5 Live: "It's a worrying time for everyone.
"We're looking after our players. They are scared, but at the moment there's nothing we can say. We're all waiting to see what are the decisions and see what the next step is.
"It's going to be a very difficult decision and we have to see what happens."