Irish Premiership: Clubs furlough players and staff amid Covid-19 lockdown
Last updated on .From the section Irish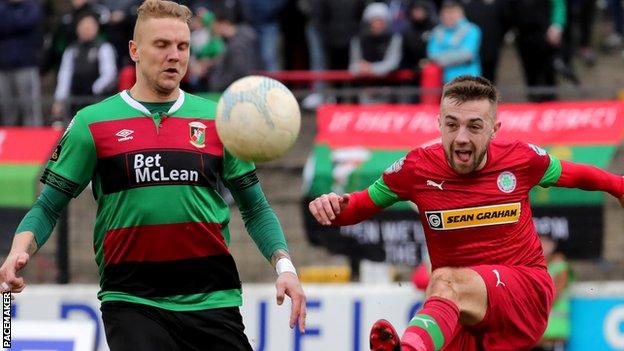 Premiership leaders Linfield are among the Premiership clubs to furlough players and staff as the coronavirus lockdown hits revenues.
Ballymena, Cliftonville, Coleraine, Crusaders, Glenavon, Glentoran, Institute and Warrenpoint have also used the furlough scheme.
The last league games were played on 7 March.
"All clubs are facing challenges with the loss of expected incomes," said Linfield chairman Roy McGivern.
The government's Job Retention Scheme allows for employees to receive 80% of their wages while on furlough, although Carrick Rangers have opted not to use it.
McGivern also described as "opportunistic" suggestions of a change in how money from European competition should be allocated.
Big investment
"This club, along with others, has invested heavily to improve our performance and to enhance the position of the Irish league within a European context," he added,
"It is imperative, therefore, that European places and the resulting revenues are awarded solely on merit and we would reject what we view as opportunistic calls for a wider distribution of European incomes this season."
Coleraine chairman Colin McKendry believes the current season may not be completed because of the on-going restrictions.
"We needed to protect our most important assets - our players, so we availed of the government scheme," he said.
"We have no income at the moment and still have bills to pay. Football is like any other business at this extremely tough time so have furloughed all players and back room staff.
"I would love to see football back this season but the longer this goes on the more difficult I think this will become."