Watford players agree wage deferrals due to coronavirus pandemic
Last updated on .From the section Watford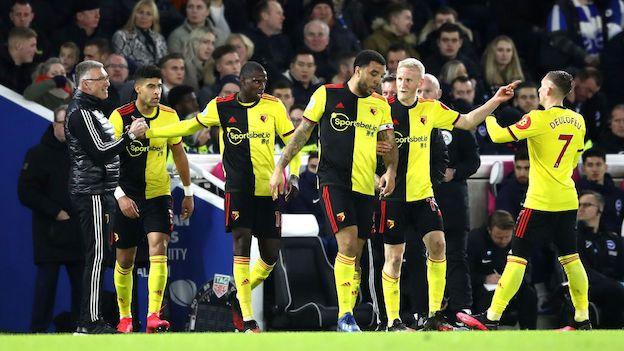 Watford have become the third Premier League club to agree wage deferrals with their first-team squad.
Earlier this month, Southampton and West Ham confirmed their players would defer part of their salaries because of the coronavirus pandemic.
Arsenal players are set to take a 12.5% pay cut while Chelsea's will reportedly agree to a 10% decrease in salary.
Watford captain Troy Deeney said the decision was in the "best interests of helping the club right now".
Deeney said "sensible discussions" had taken place with chairman and chief executive Scott Duxbury adding: "Nobody, wherever they work, is keen on the idea of a pay cut.
"So there is a bit of common sense and a good level of understanding has prevailed to get to a pay deferral over the short term."
Duxbury said: "We are grateful to the players for recognising the importance of the situation and for their support of this fantastic club.
"It is a show of unity which we know our supporters and the wider Watford community will appreciate, and shows an awareness of the need for everybody to pull together in these incredibly challenging times."
The move comes after Premier League-wide talks aimed at a collective pay deal broke down without resolution.
The Premier League proposed a 30% pay cut, but the Professional Footballers' Association said that would affect tax contributions to the NHS.
Earlier this month, Premier League players launched the #PlayersTogether scheme to generate and distribute funds to the NHS.