Dundee Utd, Raith & Cove win titles and reconstruction talks start after Dundee vote
Last updated on .From the section Scottish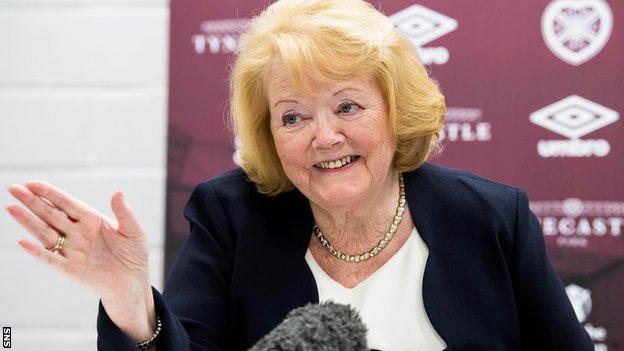 Dundee United, Raith Rovers and Cove Rangers have been declared champions - and a taskforce is to look at expanding the top flight - after Dundee belatedly backed SPFL plans to end the season.
The Scottish Championship club have had a change of heart after casting an aborted 'no' vote on Friday.
The SPFL subsequently confirmed the league winners will be promoted and Partick Thistle and Stranraer demoted.
It also said it would explore league reconstruction for next term.
Hearts chairman Ann Budge and Les Gray of Hamilton Academical will lead a taskforce, and will be joined by "other football figures to provide input and support".
The clubs run by Budge and Gray currently occupy the bottom two places in the top flight, with the former a vocal advocate of a bigger top division.
The SPFL now has the power to end the top-flight campaign should it deem it impossible to play the outstanding fixtures.
However, the league says it is "committed to consulting" with the Premiership clubs before doing so.
A total of 81% of Scotland's 42 senior clubs have backed the resolution, which means end-of-season payments can be made to the lower-league sides by the end of this week.
"It is no exaggeration to say that this was an existential matter for Scottish clubs, with many of them telling us they were at real risk of going under unless the situation was resolved very quickly, so I'm pleased that the game has moved decisively," said SPFL chairman Murdoch MacLennan.
"There was always going to be a highly-charged and passionate debate about how we secure the future of Scottish football. But what has been agreed today is not just the best way forward, it was the only realistic way forward.
"I now call on all 42 clubs to move forward in a constructive and positive way."
'Anxiety, vitriol & conspiracy theory'
Earlier on Wednesday, Dundee said it was initially their "intention" to reject the plans and that their ballot paper was submitted by last Friday's requested deadline.
However, after the vote was delayed reaching the SPFL, they chose to put their "foot on the ball and pause".
In a lengthy statement, Dundee criticised the SPFL's proposal and said the past week had been "fraught with anxiety, vitriol, conspiracy theory".
The plans, they added, were "not a solution for all teams" and "left little prospect" of reconstruction.
They added: "Also, we are sorry to disappoint all of the conspiracy theorists by saying that we were never exposed to any 'deals' from either of the Glasgow giants.
"If what we achieved in our pause was presented by the SPFL in the first instance, we would have voted in favour of the proposal."
'What was the alternative' - analysis
Former Celtic striker Chris Sutton on BBC Radio 5 live
The last couple of days, Dundee have played God, simple as that. They have used their position to bargain. There was huge pressure on them and they relished that.
The SPFL have been criticised and they have left themselves wide open to that by naming the clubs and how they voted. But when you strip everything back, 81% of clubs voted for the proposal. It can't be a popular decision with Rangers fans, I get that, but what is the alternative?
The bigger picture was trying to make sure that Scottish football clubs stayed afloat. It's extremely harsh on Partick Thistle but it is a better option than teams going into administration.