National League clubs to be asked to vote on plan to end season
Last updated on .From the section Conference213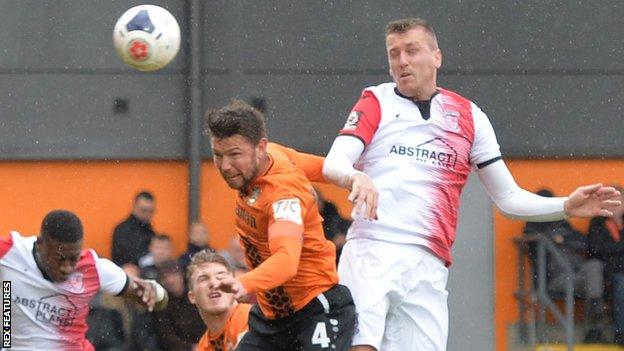 The National League has advised clubs in its three divisions to vote in favour of ending the regular season without playing games that were scheduled up to 25 April.
If the vote passes, clubs will then be asked to help "determine the outcomes of the season" through further polls.
A decision is expected to be made next week, with play-offs still possible.
Meanwhile, the Football Association has ratified a decision to end non-league football below National League level.
The FA Council's decision confirms the immediate expunging of the 2019-20 seasons in steps three to seven of the non-league men's game, as well as the women's pyramid below Women's Super League and Championship level and the wider grassroots game.
After a meeting on Thursday, the National League board wrote to member clubs, who play in tiers five and six of the men's game, also known as steps one and two of non-league.
The letter, seen by BBC Sport, explains that the board have approved the idea of immediately ending the regular season - but leaves open the possibility of clubs voting to stage promotion/relegation play-off games.
The board has received £2m of funding from the Premier League, which will be sent out to clubs next week, with £58,333 to be given to each National League club and £13,636 each to those in the North and South divisions.
The letter says: "The board has approved an ordinary resolution for clubs, that the playing season shall immediately end for all fixtures scheduled up to and including 25 April 2020. The board recommends clubs vote for this resolution.
"If the ordinary resolution is passed and the remaining 'normal season' league matches of the season are cancelled, the league will then immediately proceed with a poll of North and South clubs to determine the outcomes of the season across those divisions.
"This will be followed by a vote to determine the outcomes of the season in the National Division.
"The appropriate options to determine the outcomes of the season are being diligently prepared, and will be approved by the board before they are sent to clubs in due course."