Aberdeen: £2m investment & wage deferrals announced by club
Last updated on .From the section Aberdeen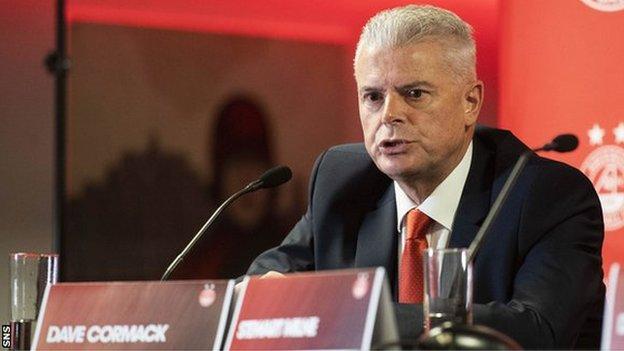 Aberdeen have announced £2m of extra investment and confirmed manager Derek McInnes, his staff, and players have agreed to defer between 10 and 30% of their wages for four months.
Higher-paid, non-football staff are also delaying part of their pay, with all deferrals saving a total of £1.1m.
These measures will "help close the looming £5m gap in cashflow".
Chairman Dave Cormack, part of the investment group, says deferrals only apply to half of the club's employees.
"Everybody has been completely supportive of what we've done," Cormack told BBC Sportsound.
"In particular, Derek and the players wanted to make sure that the lesser earners - academy players, club staff - were protected with a plan that made sense.
"I've heard of other chairmen dealing directly with agents and players, but Derek has 100% dealt with Joe Lewis - our captain - and the players, which has taken a massive burden off me.
"Derek himself has made a signification contribution to this deferment. In these crisis situations, it's actually a process that couldn't have gone any better."
McInnes thanked his colleagues for "being so forthcoming and willing to do what is required to get the us through these exceptional circumstances".
'No choice' but to call league if hiatus drags on
Cormack, who confirmed plans for Aberdeen's new stadium are now on hold, has opted not to furlough players because they are still working for the club by following training regimes and calling fans.
He has urged supporters to reach a target of 10,000 season-ticket sales for next season and 7,000 AberDNA members by 31 July.
"Our investor group, including myself, who invested an additional £5m last December, has committed £2m more to the cause," the chairman added.
"We now need to focus our efforts on selling season tickets and AberDNA memberships to meet the remaining shortfall in cashflow."
Cormack believes if Scottish football does not resume until late July or early August, there will be no "choice but to call the league" as it stands.
And he says SPFL clubs have to start planning for the prospect of games being played behind closed doors, even when football is back up and running.
"I've spoken to a number of owners of major sports franchises in the United States and privately they are planning for no sport played in front of crowds until the end of this year," he said.
"I think it's something we have to look at. We can't be blinkered. Let's say we're able to relax the isolation in June or July. Can you be playing games the next day in front of tens of thousands of people? It's not likely."