Coronavirus: Virus affects wages of Welsh club bosses
Last updated on .From the section Swansea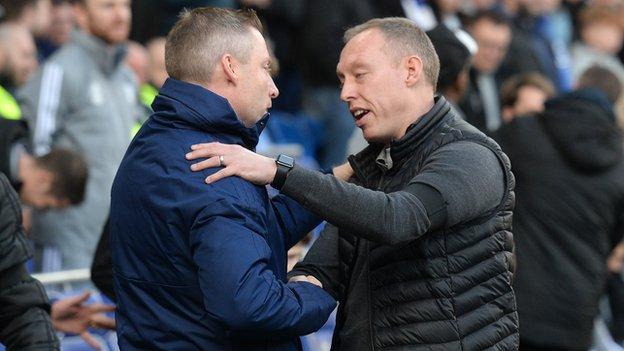 Welsh Championship clubs Cardiff City and Swansea City have announced reductions in wages for senior figures during the coronavirus pandemic.
Cardiff manager Neil Harris and chief executive Ken Choo have taken voluntary 20 per cent wage cuts in response to the ongoing crisis.
Swansea chairman Trevor Birch and head coach Steve Cooper have voluntarily agreed to "significant" wage deferrals.
All football is currently suspended in the UK until at least the end of April.
Cardiff chairman calls for wider wage cuts
Chairman Mehmet Dalman has called on football authorities to ensure players also take cuts across the board.
Cardiff are to implement pay reductions to some staff but will protect employees on the lowest incomes.
They will also put a proportion of non-playing staff on the Government's furlough scheme.
"These are wartime conditions," Dalman told BBC Wales Sport.
Dalman praised the actions of manager Harris, who was appointed in November and Choo, the top paid official at the club.
"This is responsible management, leading by example," he said.
Dalman said instigating wage cuts for other staff was a difficult decision but was necessary to protect jobs and the future of the club.
Dalman, who heads an investment bank, recalled: "When the 2008 crisis came I did not fire a single person.
"I made it clear to my staff they either take pay cuts or lose their jobs. They all took the cuts and they all kept their jobs."
Dalman would like to see players take pay cuts, as many people are having to do in all walks of life.
Cardiff are now waiting for the outcome of discussions over player wages between the Football Association, the EFL and the players' union, the Professional Footballers' Association.
"If I was running a restaurant I would ask my waiters to take a pay cut. If they did not I would have to fire them," Dalman added.
"These are exceptional circumstances. We have confidence they will make the right decisions."
Swansea furlough staff
The deferral of Birch and Cooper's wages comes after the club asked the majority of non-playing staff to be placed on furlough due to coronavirus.
Swansea have used the UK Government's scheme which allows 80% of wages to be covered during football's suspension.
Swansea say they will top up the remaining 20% so staff retain their full wages "for the immediate future".
Swans boss Cooper said: "Everyone has to pull together during these difficult times in the hope that we can come through it as unscathed as possible.
"The club has confirmed this week that it will be placing a number of staff on furlough leave - and it is a credit to the club that they will retain 100 per cent of their wages - but it is important that as senior figures we play our part as well.
"This football club is so important to the supporters and the city, and the fact that I am taking a wage deferral is the least I can do.''
Swansea are expected to confirm other senior staff members will join Birch and Cooper in taking wage deferrals this month.
Those not on furlough - including roles in senior management, customer-facing staff and maintenance - remain at work on a daily basis.
Discussions also continue on how and whether the season can be concluded.
Birch admits uncertainty over when the season will restart has left Swansea needing "to do all we can to protect the financial integrity of the club".
"We need to give ourselves the best prospect of emerging from this crisis intact with all our workforce still in jobs and the club remaining a viable business going forwards," Birch said.
"As such, we have to identify the majority of our non-playing staff for furlough, which will mean that they will not undertake any work but will still receive their salary. While the Government will provide a grant of 80% of the salary for the immediate future, this amount will be topped up by the club to 100% of their existing salary.
"These are obviously very difficult times for us all and we are working hard to safeguard all staff through this difficult period. Staff are important to us as people as well as employees. But we also have to take measures that ensure we emerge from this crisis not only physically intact but also financially secure."
Swansea say contracted zero hours staff will receive their full average pay based on three months of earning since January, while casual matchday staff will be reviewed when plans for the end of the season become clearer.