Rangers: Dave King steps down after five years as chairman
Last updated on .From the section Rangers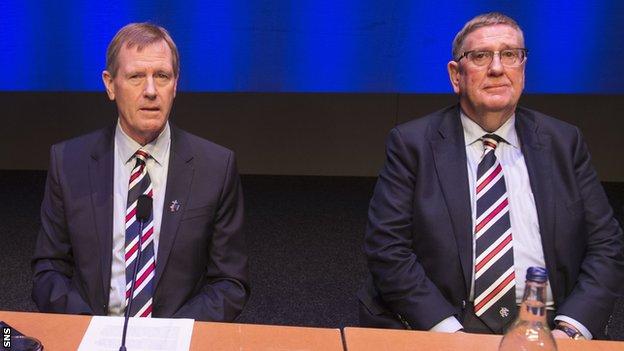 Dave King has stepped down as Rangers chairman, with Douglas Park put in interim charge of the board.
King said fresh investment has been "put on hold" as the club deals with the coronavirus crisis.
However, Park later said the funding plan announced at November's AGM is "well advanced".
The temporary chairman added that "significant investment" had already been received, with "further commitments" in place.
Rangers have also appointed John Bennett as deputy chairman, saying his "consistent investment in the club is set to continue".
Johannesburg-based King had announced his intention to leave this month at the club's AGM last year, when it was revealed £10m was required before the end of the season.
He admits he almost had a change of heart as the scale of the virus threat became clear.
But he has ended his five-year tenure to make way for motor group tycoon Park to steer Rangers through the crisis. King also announced a task team has been set up at Ibrox to deal with the fallout of the pandemic.
King had earlier confirmed plans for a share issue while insisting he did not intend to sell any of his Ibrox shares.
"At my final board meeting in Glasgow on 14 March the board was close to finalising a new round of funding however this has been put on hold while the board considers the financial consequences of the rapidly evolving global impact of coronavirus," he said.
"The subsequent severe developments within the sporting and general business environment - that have now resulted in global lockdowns - has necessitated that the careful financial planning assumptions presented on 14 March are revisited.
"In that regard we are no different from other football clubs and, indeed, the largest and smallest companies worldwide are all affected to varying degrees."
The 64-year-old businessman has been at the helm since being a key figure in taking control of Rangers in 2015.
"I thank all supporters, club management and the board for the magnificent support I received while guiding the club post regime change to put that specific crisis behind the club," King added in a long statement.
"The deputy chairman Douglas Park will chair the board during the interim period and a new permanent chairman will be elected by the board at the next board meeting and will be announced immediately thereafter.
"I considered the possibility of extending my time as chairman until the coronavirus crisis is over but that is not practically possible. After I returned to South Africa last week from the board meeting, I was mandated by the South African authorities to go into self-isolation for 14 days - which I am presently undergoing."
King had expected fresh funding in the club - reports 10 days ago linked Far East real estate tycoon Stuart Gibson with leading a multi-million pound investment - but that has now been shelved.
But a club statement following King's release said: "RIFC is pleased to confirm that the funding plan announced at the recent AGM is well advanced, with significant investment already received and further commitments in place.
"The elevation of Douglas Park and John Bennett is another significant step forward and is a sign of intent by the club."
Park added: "It is a privilege to take on this position at the world's most successful football club. We have experienced some difficult days but have emerged stronger than before."
'A punt from the heart' for Park
Neil McCann, former Rangers winger on BBC Sportsound
It's a punt from the heart from Douglas Park. He's someone with a massive affinity with the club.
Maybe he sees that if he can get the club through this really difficult period then there's something on the horizon that is very good.
That could be payback for him. If Rangers can stop nine or 10 (titles in a row for Celtic), then he's an absolute hero
Billy Dodds, former Rangers striker on BBC Sportsound
Douglas Park has clout and money and there's a real trust and belief behind him from the fans.
He's been on the board for a long time and knows how the club operates, so you've got to applaud him for standing up to the plate again.