SPFL: Furlough scheme 'should save most Scottish clubs'
By Brian McLauchlin & Tyrone Smith & Alasdair Lamont
BBC Scotland
Last updated on .From the section Scottish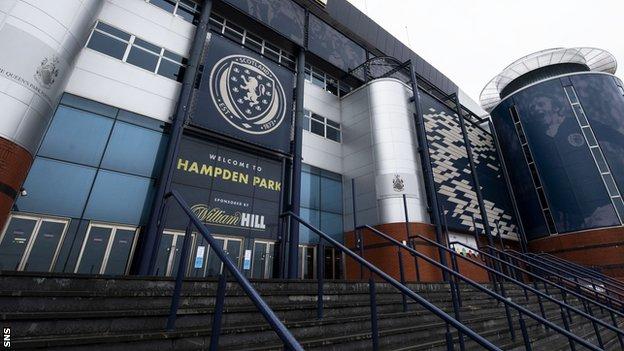 The UK Government's furlough scheme "should save most clubs", according to a Scottish League Two official.
The SPFL has offered guidance to clubs who wish to employ the payment scheme amid the coronavirus-enforced break.
The issue was one of those discussed at a series of conference calls involving all 42 SPFL clubs on Friday.
Another League Two official told BBC Scotland the process "will work for us and is quite good, and it appears part-time players will be covered".
The furlough scheme would allow clubs to claim up to 80% of players wages with a maximum limit set at £2,500 per month.
If players agree, it will require a change to their current terms and conditions and these would have to be lodged with the Scottish Football Association registration department within 14 days of the application.
Should they not want to do this, players would either have to go through a redundancy process or would have their contracts ripped up.
Other matters emerging from the series of meetings were:
No decision over finalising leagues has been made, with football not expected to resume until at least August

The SPFL is attempting to ensure commercial contracts for next season are secure

Championship clubs discussed issues such as a job retention scheme, advancing league fees, player registrations and transfer windows
Last week, similar meetings took place with one SPFL chairman describing it as "underwhelming".
It is hoped more clarity will forthcoming next week that will allow clubs to plan for the forthcoming campaign.
The 42 teams received payments from the SPFL this week, with Celtic, Rangers and Motherwell getting almost £400,000 plus VAT.
However, others were given far less, with League Two clubs receiving just £1,350.