Coronavirus: Portsmouth's James Bolton, Andy Cannon, Sean Raggett & Haji Mnoga test positive
Last updated on .From the section Portsmouth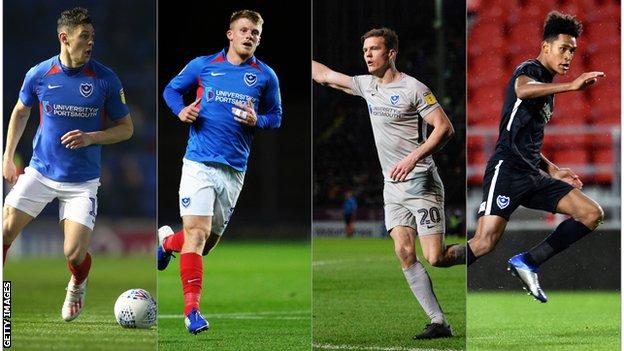 Four Portsmouth players, James Bolton, Andy Cannon, Sean Raggett and Haji Mnoga, have tested positive for coronavirus.
The League One side said the quartet are all self-isolating and the club has notified Public Health England.
All players and first-team staff were tested earlier in the week and Portsmouth said they are awaiting results of 10 more tests.
Mnoga's positive test was confirmed a few hours after the other three.
"Football is not immune from this virus and I can assure you that it only really hits home when those that you know contract it," Portsmouth chief executive Mark Catlin said.
Portsmouth's players and staff were tested following their FA Cup tie with Arsenal after several of the Gunners squad had been in contact with Olympiakos owner Evangelos Marinakis on the night of their Europa League meeting.
Marinakis, who also owns Nottingham Forest, confirmed he had the virus on 10 March. Arsenal manager Mikel Arteta subsequently tested positive for coronavirus.
'None of these players are seriously ill'
BBC Radio Solent's Portsmouth commentator Andrew Moon reports:
The whole Portsmouth squad were tested when they returned to training on Tuesday. Nobody was showing any symptoms at that stage so I think there was a bit of an assumption that they would get the all-clear to continue.
By Thursday, they had had around a dozen negative results back so the news on Saturday that players had tested positive came as a bit of a shock.
What underlines the big challenge of this virus is that none of these players are seriously ill, they're all recovering well and I've exchanged text messages with a couple of them, who seem to be in reasonably good spirits.
But they have tested positive, so obviously now have to self-isolate for 14 days.
For example, one of the players, Andy Cannon, lives with the Portsmouth captain Tom Naylor. That would mean Naylor too would have to self-isolate for 14 days as well and the families of the others will be in the same boat.
It would not come as a surprise if the club decide the whole squad should self-isolate for 14 days in order to protect everyone's health and well-being, especially any vulnerable people who they may come into contact with.