Montrose & Dumbarton players & coaches take cut in wages

By Tyrone Smith
BBC Scotland Sport
Last updated on .From the section Scottish League One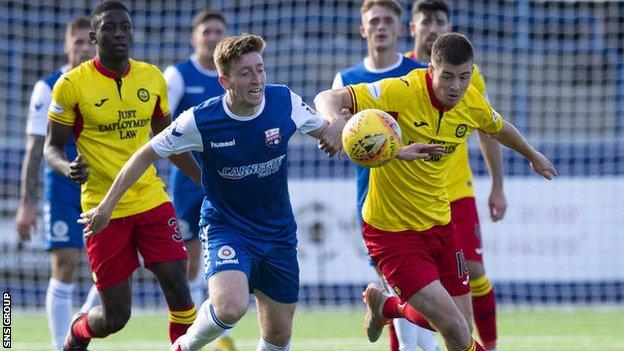 Staff at Montrose, including players and members of the management team, have offered to take pay cuts, with some saying they are prepared to waive their salary altogether.
Players and management at League One rivals Dumbarton are taking a 50% deferral on wages until further notice.
The agreement at the part-time Sons will be honoured for all, including those with contracts due to expire.
Scottish football has been suspended until at least the 30 April.
And clubs all around the country are facing a period of financial uncertainty due to the enforced shutdown during the coronavirus pandemic.
Montrose chairman John Crawford told BBC Scotland: "As a board of directors, we would like to sincerely thank all our staff, management and players, many of whom, completely unprompted, have come forward and offered to help in the current circumstances.
"Some have volunteered to have their hours reduced, many have offered to take a reduction in their weekly pay and some have even asked to have their wage stopped altogether.
"In addition our fans and supporters' club are working on a range of ideas to help raise much needed income, all these offers have been extremely well received and it reinforces once again just how close-knit a group we are."
'Pie in the sky'
The Scottish football authorities this week announced they are sharing £1.5m of funding among clubs now, rather than at the end of the year when it was originally due.
Dumbarton said they were "grateful for the decision to release funds early and immediately", adding that they will release details on how fans can donate to the club soon.
Meanwhile, Crawford continued: "We are finding it very difficult right now to pick the best way forward given the uncertainty that surrounds our fixtures and future income.
"Football, as a sport is really an irrelevance at the present time and our priority lies with the health and safety of everyone associated with the club."
Forfar Athletic, also in League One, are planning cost-cutting talks with staff and estimate that the hiatus will cost them in the region of £80,000 in lost gate receipts, sponsorship and two scheduled fundraising dinners.
They say the only money coming in is £8,000 that was guaranteed from the SFA this week and a further payment of under £3,000 due from the SPFL due in early April.
"Quite frankly as is the case with many other clubs the whole situation could be crippling and the oft used statement this week that the game might come out of this crisis in a stronger position is pie in the sky at our level," read a statement.