French Ligue 1 and 2 and German Bundesliga 1 and 2 suspended because of coronavirus outbreak
Last updated on .From the section European Football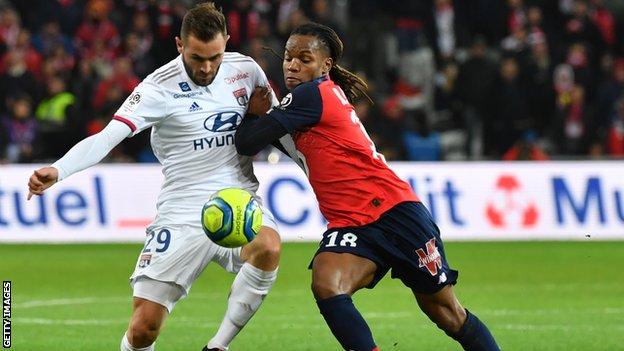 Football in France and Germany's top-two divisions has been suspended immediately because of coronavirus.
The German Football League (DFL) said there were "suspicions of a coronavirus infection in the vicinity of several clubs and their teams and that further infections cannot be ruled out".
The DFL recommended a Bundesliga 1 and 2 suspension until 2 April.
Hannover's game against Dresden was cancelled after two Hannover players tested positive for the virus.
This weekend's Bundesliga games were due to be played behind closed doors with a suspension starting on Monday, but the DFL announced the postponement of all games on Friday.
"The goal is still to end the season by the summer - from a sporting point of view, but especially because an early end of the season could have existential consequences for some clubs," the DFL statement added.
Ligue de Football Professionnel (LFP) - French football's governing body - suspended all Ligue 1 and 2 games earlier on Friday.
LFP said the decision was made "unanimously" by the board of directors on Friday and added, "collective interest must be placed above everything".
"The urgency today is to curb the epidemic, protect the most vulnerable, and avoid displacement," a statement said.
Games in France were already to be played behind closed doors after a ban on all gatherings of more than 1,000 people to prevent the spread of Covid-19.
LFP's board of directors is set to meet again after Uefa's meeting on Tuesday, which will discuss the postponement of all domestic and European competitions, including Euro 2020.
Uefa announced on Friday that all European club competitions, including the Champions League and Europa League, due to be played on 17 and 18 March had been postponed.
All elite football in Britain has been suspended until at least 3 April.