Euro 2020 play-offs: Northern Ireland & Republic of Ireland games could be postponed
Last updated on .From the section Northern Ireland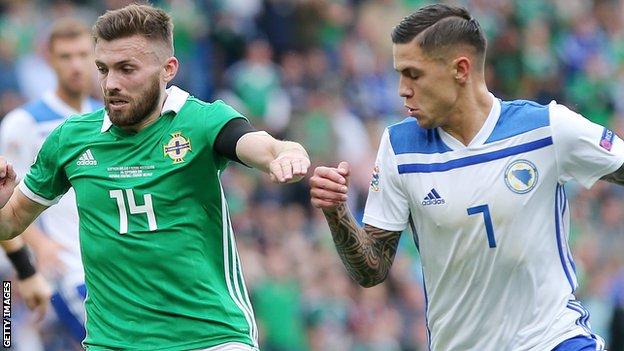 The opponents of Northern Ireland and the Republic of Ireland have requested their Euro 2020 play-off semi-finals are postponed because of coronavirus.
Bosnia-Herzegovina host N Ireland while the Republic are away to Slovakia, with both games scheduled for 26 March.
The games moved closer to being postponed after Fifa recommended on Friday that all impending internationals should be called off.
Uefa will make a decision on Tuesday.
"In the light of the ongoing developments in the spread of COVID-19 across Europe and the changing analysis of the World Health Organisation, Uefa has invited representatives of its 55 member associations, together with the boards of the European Club Association and the European Leagues and a representative of FIFPro, to attend meetings by videoconference on 17 March to discuss European football's response to the outbreak," the statement said.
"Discussions will include all domestic and European competitions, including Uefa Euro 2020. Further communication will be made following those meetings."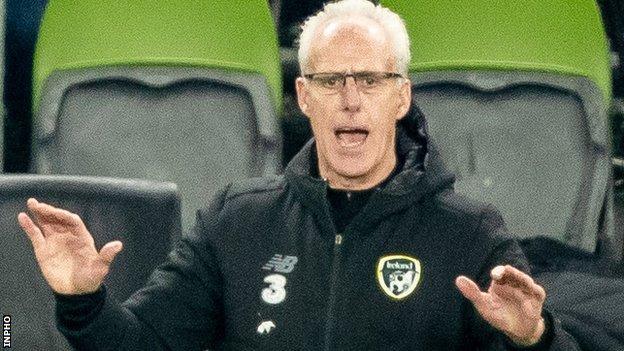 The Republic have cancelled their squad announcement, which was due to take place on Friday.
Northern Ireland and the Republic will meet in a play-off final at Belfast's Windsor Park on 31 March if both teams progress.
Measures taken in Bosnia-Herzegovina include banning entry to the country for citizens of Italy, Germany, France, Spain, Iran, South Korea and China.
Its FA said it "further informs Uefa that all BH nationals coming from these areas must be subject to a mandatory 14-day quarantine as well as self-isolation if they come from other areas where COVID has occurred.
"This means that most of our players would not be able to play a play-off game."
Fixture chaos
While making its request for the match to be postponed, the Bosnian FA said it is aware of the difficulties a postponement would cause.
"The FF BH administration is in constant contact with Uefa, and according to the latest information the play-off matches will not be postponed due to the impossibility of setting new dates in the competition calendar," it said.
"Accordingly, the FF BH expects further instructions from UEFA and will respect all recommendations, orders and instructions of the competent authorities regarding holding public events in Bosnia and Herzegovina."
Ticket sales for the game in Bosnia-Herzegovina have been postponed but up to 900 Northern Ireland fans have made travel plans to attend the match.