Hearts: Anne Budge to remain chairman and chief executive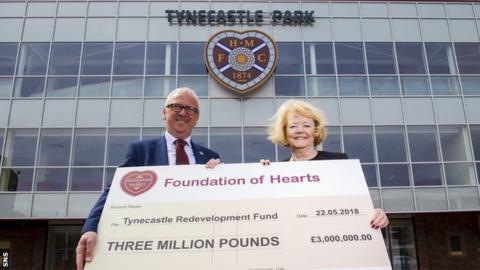 Ann Budge will remain chairman and chief executive after handing over her 75.1% stake in Hearts.
Fans' group Foundation of Hearts (FoH) will take ownership from Budge by "around the end of April" after repaying the £2.5m loan owed to her.
Budge joined forces with the Foundation in 2014, paying £2.5m to take Hearts out of administration in 2014, will remain in her current role.
"The running of the business must not be interrupted," she told BBC Scotland.
"There is a board of directors who run the club, an executive team who run the day-to-day operations. The entity of FoH will protect and hold the shares - it doesn't mean they are going to run the club.
"I've said repeatedly, fan ownership does not mean fans running the club. If that happens, I genuinely believe it would be a disaster and undermine everything we've done."
The Foundation's continued financial backing included a £3m contribution towards a new main stand.
"It's an amazing achievement on behalf of the supporters, no question," she added.
"The plan was that at most I'd be here for three years. The way things went, deciding to build a new stand, that lengthened everything by a couple of years. I did not think I'd still be here but I'm not complaining."