Rangers 'astounded' by Scottish FA charges on not acting in orderly fashion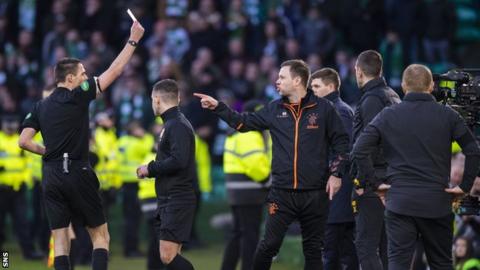 Rangers say they are "astounded" by charges of not acting in an "orderly fashion" and intend to contest them "in the most robust manner possible".
The Scottish FA charges relate to behaviour during wins at Easter Road and Celtic Park last month.
In the Old Firm game, the charge covers a gesture made by Alfredo Morelos following his sending off and one by Ryan Kent after he scored the opener.
Hibs are accused of the same breach after a mass confrontation.
A hearing for both clubs is scheduled for 6 February with the club facing fines ranging from £2,500 to £20,000 for each offence.
In separate charges, Rangers coaches Thomas Culshaw and Michael Beale are accused of misconduct, along with Hibs' first-team coach John Potter. All three received red cards after touchline altercations.
"It is concerning that it seems the governing body is seeking to hold Rangers to a different and more stringent code of conduct than that applied to others, with unprecedented charges being levied against the club," read a statement from Ibrox.
"Rangers fans can be assured that it is our firm intention to resist the charges in the most robust manner possible. Rangers will make further comment after the weekend."
In terms of the alleged breach for Hibs and Rangers, the rules state: "All clubs and recognised football bodies shall procure that its officials, team staff, employees and players conduct themselves in an orderly fashion at all times during and/or after a match."
Prior to Friday's 2-0 Scottish Cup win over Stranraer, Rangers manager Steven Gerrard said he "was a bit surprised by the timing" of the notices of complaint.
He said: "How long it has taken? But that's the way it is - we can't control that. So we'll turn up where we have to turn up, listen to what we have to listen to and deal with whatever comes our way.
"I haven't really had time to think about it. It arrived on a match day, which is always helpful and handy, so we will look into it tomorrow when we have more time."