Mal Benning: PFA want 'stronger action' after Mansfield Town player highlights racist abuse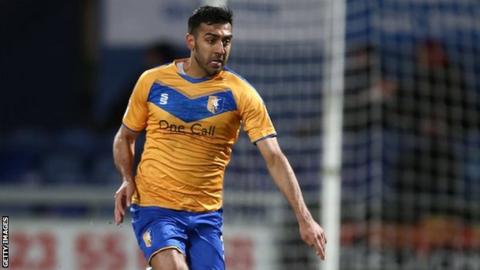 The Professional Footballers' Association want Twitter to take "stronger action" against racist abuse after Mansfield's Mal Benning was targeted on the social media platform.
Defender Benning, 26, highlighted a post to his followers on Monday.
The PFA said it reported the message to Twitter and it was later deleted.
"While we commend the quick action, simply deleting a post is an insufficient response to tackling racist abuse," the PFA added.
"We are calling on Twitter to reconsider their policy and to take stronger action on accounts that post hateful rhetoric.
"In December, we called for a government inquiry into racism in football. We have been in contact with the Minister of State for the Department for Digital, Culture, Media and Sport regarding this issue.
"We will be working to ensure all forms of racist abuse - whether from the stands or social media networks - are included in this process."
Anti-discrimination charity Kick It Out said it has "reached out" to support Benning and is "pleased" that the matter is being investigated by police.
'There is no need for this'
In a Twitter post drawing attention to the abusive message, Benning said: "Not experienced much 'racism' as one of very few Asian players in the professional game. But there is no need for this, no matter what race you are or what team you support."
The account from which the message was posted belongs to a person who National League club Chesterfield say is purported to be one of their supporters.
In a statement on their website, Chesterfield said: "Racist comments simply cannot be tolerated and any information we receive which helps police identify the person who has sent this message would be greatly appreciated.
"Chesterfield FC Community Trust does much to educate groups about diversity, race and equality, delivering workshops in Chesterfield and north Derbyshire.
"The club and the Trust also work in partnership with Kick It Out to promote inclusion and respect in football."