Man Utd v Tottenham: Chelsea players dominate your Jose Mourinho all-time XI
Last updated on .From the section Premier League
New Tottenham Hotspur manager Jose Mourinho comes face to face with former employers Manchester United at Old Trafford on Wednesday.
During his spells at Porto, Chelsea, Inter Milan, Real Madrid and Manchester United, Mourinho has coached some of the biggest names in world football to domestic and European success.
Over 63,000 BBC Sport users picked their all-time Mourinho XI and here are the results: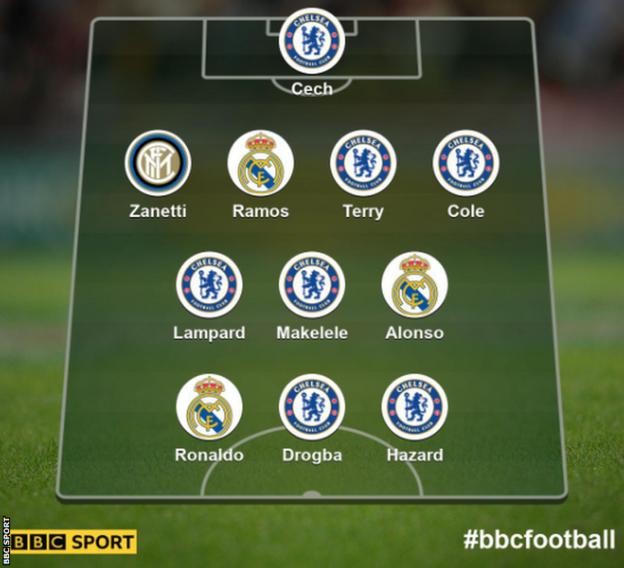 Perhaps unsurprisingly since he spent five-and-a-half years and won eight major trophies in his time at Chelsea, the team is dominated by players who played under Mourinho at Stamford Bridge.
Seven of the 11 players you selected played under the Portuguese manager in London, three played for him at Real Madrid, there's one representative from his time at Inter Milan - and none from Manchester United or Porto.
Cristiano Ronaldo was the most popular player, with 88% of you picking the forward in your teams.
John Terry (77%), Sergio Ramos (74%), Didier Drogba (72%), Ashley Cole (70%), Frank Lampard (68%) and Eden Hazard (66%) were also popular, with each player being included in more than two thirds of teams.
Petr Cech got 45% of vote to earn his place between the sticks ahead of Iker Casillas (26%).
Xabi Alonso (41%), Claude Makelele (36%) and Javier Zanetti (34%) fill the final places.
Zlatan Ibrahimovic (36%), Luka Modric (30%) and Ricardo Carvalho (29%) all narrowly missed out on making the final team.
You can still pick your combined XI but unfortunately your votes won't be counted - and don't forget to share your picks on social media using #bbcfootball.
Pick your Jose Mourinho all-time XI