Euro 2020: Russia allowed to compete despite potential four-year ban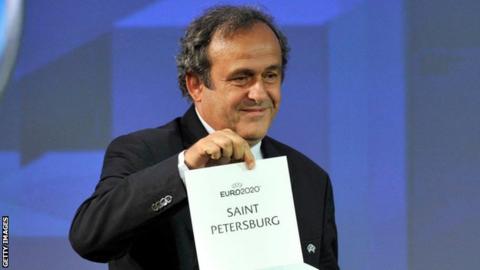 Russia will be able to compete at Euro 2020 even if a four-year ban from sporting events comes into effect.
The World Anti-Doping Agency's (Wada) compliance review committee (CRC) recommended Russia be banned from hosting and competing in major international events on Monday.
Russia's Anti-Doping Agency (Rusada) was declared non-compliant over inconsistencies in anti-doping data.
St Petersburg will also remain as a host city at next summer's tournament.
If the ban is upheld by Wada's executive committee at a meeting in Lausanne, Switzerland, on 9 December, and backed by the Court of Arbitration should Russia contest it, it would not include the European Championship as Uefa is not defined as a 'major event organisation' in regards to rulings on anti-doping breaches.
Russia's participation in qualification for the 2022 World Cup in Qatar would, however, be under threat.
A statement from football's governing body Fifa on Tuesday read: "We will await the final considerations of the Wada executive committee on this matter until any potential material decision is taken by Fifa."
Russia also faces exclusion from the Olympic and Paralympic summer and winter games in 2020 and 2022, though individual athletes would be cleared to compete if able to demonstrate they are not implicated in any way by the non-compliance.
The International Olympic Committee (IOC) has called for the toughest sanctions to be brought against those responsible for manipulating test data and has described attempts to cover up positive findings as "an insult to the sporting movement worldwide".
Analysis
BBC sports editor Dan Roan
All the signs are that on 9 December, Wada's leadership will accept the recommendation of its compliance panel and cast Russia into the international sporting wilderness.
For the second successive Olympic Games, and in many other major events, for the next four years, there would be no official Russia team, with athletes forced to compete as neutrals, and only after passing eligibility checks. Given the scale of cheating and deception, many critics will argue a blanket ban on all Russian athletes would be a more appropriate punishment.
But even though almost five years has now passed since the Russian doping scandal was first exposed, this is unlikely be the end of the story. Russia is expected to appeal via the Court of Arbitration for Sport and argue that individuals acting on behalf of the state - rather than its sports authorities - were responsible for the audacious manipulation and deletion of data, and therefore athletes should not be punished.
Do not be surprised therefore if the build-up to another Olympics is overshadowed by further twists in what has arguably become the gravest scandal in sports history.