Partick Thistle: EuroMillions winner Colin Weir to gift control to fans
Last updated on .From the section Partick Thistle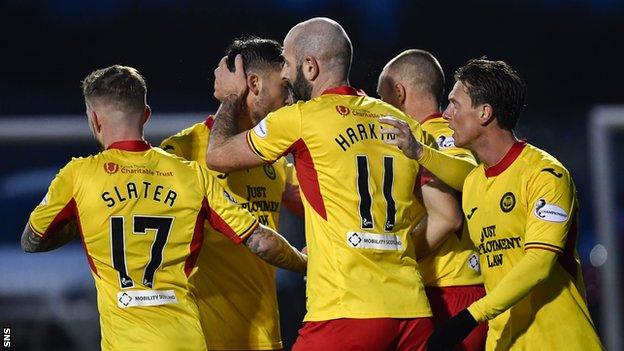 EuroMillions winner Colin Weir has completed his takeover at Partick Thistle and plans to gift ownership to fans next year.
Weir, 71, has purchased a majority shareholding and a holding in land at the club's Firhill Stadium.
The lifelong supporter will immediately give the land back to the Scottish Championship club.
His 55% shareholding will then go to a fan group being developed, based on the Well Society model at Motherwell.
The free transfer of shares will happen "no later than the 30 March 2020".
Weir has already invested around £2.5m of his £161m lottery win from 2011 in the Glasgow club and previously set aside £6m for a new training ground.
But he withdrew his support in August citing "uncertainties" about a mooted takeover by a foreign consortium.
An interim board will be established "comprising of a mix of experienced business people and fan representatives", while a working group is to be set up jointly by the PTFC Trust and Thistle for Ever organisations to create the body that will receive the shareholding.
The land purchased from Firhill Developments is the south terrace area and main stand and it will revert back to full Thistle ownership after 10 years under the terms of the deal.
'Fan owners will not need to repay a penny'
"Thistle for Ever planted the thought of fan ownership as a real option in my mind," said Weir in a statement.
"But this has all happened quicker than anyone might have anticipated. That's why I have offered a three to four month window for fans to get everything in place before handing over shares.
"They want to get it right and I want to be sure that when the new entity is operational, there is a structure that will allow for a smooth transfer of ownership. This is a major financial commitment on my part as fan owners will not need to repay a penny - but I believe this gives fan ownership the best possible start."
Weir also promised a future announcement on his plans for funding the club's youth academy.
Indian restaurant entrepreneur Dr Charan Gill is among the directors who will join Weir on Partick Thistle's board of directors.
Dr Gill built the largest chain of independently owned Indian restaurants in Europe before selling up to focus on personal interests and has maintained close links since his Ashoka restaurant was one of the club's first shirt sponsors.
Partick Thistle FC Trust vice-chair Alan Caldwell, a civil servant, and banker Andrew Byron, who has been a trustee, are also directors.
They are joined by Ian Dodd, who joined the club's board in 2010, and former journalist John Penman.