Women's football: Spain's top players' strike sees all fixtures postponed
Last updated on .From the section Women's Football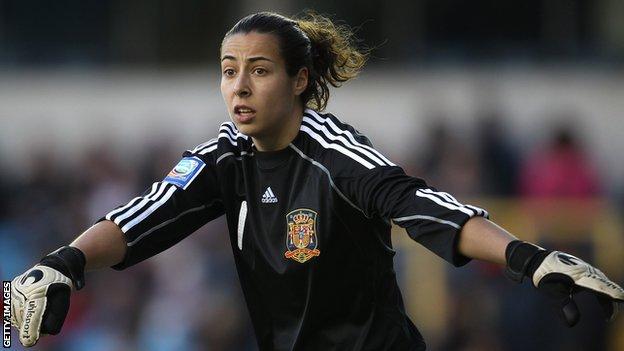 A strike by women footballers in Spain's top division because of a dispute over pay saw all eight fixtures postponed over the weekend.
They are demanding a professional agreement that regulates minimum working conditions, rights to minimum wages and measures for maternity.
Both of Saturday's games and six matches on Sunday were called off.
UDG Tenerife did not to travel to their game at Espanyol after their Friday flight was severely delayed by technical problems, but had planned to do so and strike on Saturday.
In a statement on their website, the club said they "respect the position of the players to support the strike", adding that they hope an agreement can be reached "for the sake of women's football and generations to come".
Levante and Sporting de Huelva posted on social media to confirm their game would not go ahead after "both clubs decided to join the strike action".
On Sunday, the matches between Athletic Club and Tacon, Real Sociedad and Barcelona, Real Betis and Sevilla, Valencia and Atletico Madrid, Deportivo and Logrono and Madrid CFF and Rayo Vallecano were all postponed.
A video featuring top players, including Athletic Bilbao goalkeeper Ainhoa Tirapu and fellow Spain international Silvia Meseguer of Atletico Madrid, was promoted on social media by players' union the Association of Spanish Footballers.
In the video they say they are fighting for former players, current players and "for those who will one day be in our place".
The action was supported by 93% of players employed by 16 clubs at a meeting in Madrid on 22 October.
Clubs are proposing a minimum wage of 16,000 euros (£13,700), but unions representing the players are asking for at least 20,000 euros (£17,000).