Queen's Park: Scotland's oldest club vote to go professional after 152 years as amateurs
By Stefan Bienkowski
BBC Sport Scotland
Last updated on .From the section Queens Park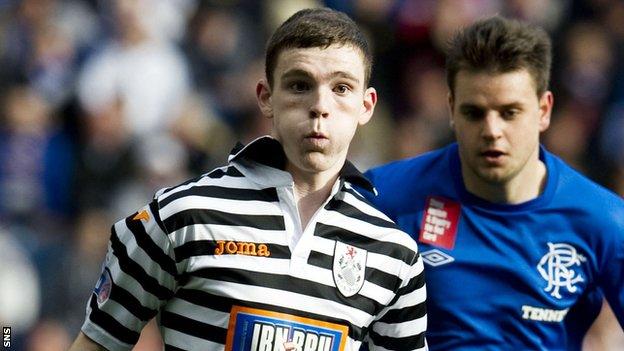 Queen's Park's members have voted to end 152 years as amateurs and Scotland's oldest club will now move towards the professional ranks.
The Glasgow club are the last remaining amateur side in the Scottish Professional Football League.
But 91% of members accepted advice from the club that change was needed to compete with their rivals.
President Gerry Crawley said: "It's a historic evening. 152 years of history. There's a degree of mixed feelings."
With Hampden Park being sold to the Scottish FA, and a move to neighbouring Lesser Hampden in prospect, Queen's Park also recognised the growing threat of Highland League and Lowland Leagues keen to take their place through promotion to the SPFL.
Thursday's motion, which needed a 75% vote to proceed, at Hampden Park means the League Two club will, within a matter of months, be able to offer paid, part-time contracts to their first-team players and earn a financial return through transfer fees or compensation when players move on.
"The committee of the club plotted a course to try to defend ourselves against the threats of other ambitious clubs around about us wishing to become a senior league club," former Queen's Park striker Crawley told BBC Scotland.
"We are keen to arm ourselves to fend that off and progress ourselves. It was head against heart. The heart of a lot of the membership would be we really don't want to do this, but we have to do it."
Queen's Park dominated the early years of organised football in the country, winning 10 Scottish Cups in the 19th century and reaching two FA Cup finals.
However, their success waned as they resisted the growing professionalism in football and have maintained their principle of "playing for the sake of playing", their club motto since their formation in 1867, until now.
As amateurs, they were unable to sign players on long-term contracts, which meant losing their best talent for free to professional clubs.
Liverpool left-back Andy Robertson, Dundee United striker Lawrence Shankland and Ross County midfielder Blair Spittal are just three of the most recent products from the Queen's Park academy.
After the vote, Queen's Park thanked "members and supporters" via Twitter for their input in recent months.
"We recognise the difficulty in introducing this resolution," they added. "However, we believe this will enable us to plan for a bright future as we face up to the challenges of moving from the national stadium and maintaining our senior league place."