England fans wrong to boo Joe Gomez, says Raheem Sterling
Last updated on .From the section England
England forward Raheem Sterling says it was wrong for fans to boo Joe Gomez when he came on as a substitute in Thursday's 7-0 Euro 2020 qualifier win against Montenegro at Wembley.
Sterling was seen applauding Gomez when he came on to the sound of jeers.
"It was hard for me to see my team-mate get booed for something that was my fault," Sterling tweeted.
"Joe hasn't done anything wrong and for me to see someone who keeps his head down and works hard, especially after a difficult week for him, to be booed when he came on tonight was wrong.
"I've taken full responsibility and accepted the consequence."
'No England player should be booed like that'
The altercation between Sterling and Gomez happened at the England camp one day after the pair were involved in an on-field argument during Liverpool's 3-1 Premier League victory over Manchester City at Anfield on Sunday.
Sterling has since apologised for his actions and England boss Gareth Southgate confirmed he will start Sunday's final Euro 2020 qualifier in Kosovo.
Southgate said he was sad to see the reaction to Gomez's introduction in the second half against Montenegro.
"I am hugely disappointed for Joe," he said.
"Joe had done nothing wrong and no England player should be booed like that when they are wearing the shirt.
"All the players are particularly disappointed with that."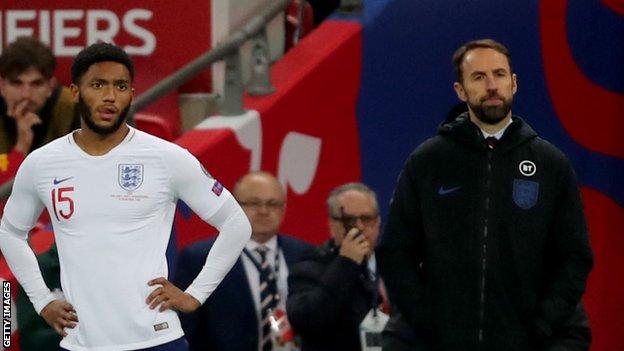 'Senseless, unwarranted and totally undeserved' - analysis
BBC Sport's chief football writer Phil McNulty
England's night of celebration - their 1,000th game coupled with qualification for Euro 2020 as Montenegro were overwhelmed - was marred by the disgraceful jeering of Gomez.
It was the unfortunate lingering fall-out from the confrontation between Liverpool's talented defender and Manchester City's Sterling in a private area at St George's Park when England's squad gathered on Monday, the day after they had clashed when the teams met at Anfield.
All accounts suggested Gomez was the innocent party, effectively confirmed when Sterling tweeted in his defence after the game in response to the hostile reception he received when he was introduced as a 70th-minute substitute.
There was audible booing from some England supporters, even though Sterling was actually on Wembley's big screens applauding as Gomez prepared to make his entrance.
It was senseless, unwarranted and totally undeserved and rightly condemned by both Southgate and Sterling, who accepted full responsibility for the incident in what was an exemplary response of his own. That he was the main offender in the flare-up should have been clear from the decision to exclude him from this game as a disciplinary measure.
Gomez deserves better than the shockingly poor treatment he received from some England fans at Wembley. It did those responsible no credit whatsoever and was an incident that disappointed Southgate and upset Gomez's team-mates.
How sad that this took some of the gloss off what was meant to be a gala occasion for England and the Football Association. Let's hope the strong words from Southgate and Sterling ensure no repeat.