Raheem Sterling: Gareth Southgate 'will not hesitate' to pick England forward in Kosovo
Last updated on .From the section England
Euro 2020 qualifier: England v Montenegro
Venue:
Wembley Stadium, London
Date:
Thursday, 14 November
Kick-off:
19:45 GMT
Coverage:
Listen live on BBC Radio 5 Live, plus live text commentary on the BBC Sport website and app. Click here for Live Guide.
England manager Gareth Southgate says he will have no hesitation over selecting forward Raheem Sterling for Sunday's Euro 2020 qualifier in Kosovo.
Southgate said: "We move forward. The way he's trained has been exemplary."
Earlier on Wednesday, Southgate said he "wouldn't imagine" that 24-year-old Sterling is "hugely enthusiastic" about him after the decision he made.
"He's with the group, that's the most important thing. He's a massive part of what we do - has been, will be," he added.
"He's with us for the game tomorrow. He's back with the team on the training pitch enjoying his football."
England need just a point against Montenegro on Thursday (19:45 GMT kick-off) to qualify for Euro 2020 in their 1,000th match.
Manchester City's Sterling will be available again for Sunday's trip to Kosovo (17:00) - their final qualifier for next summer's tournament - after missing his first international since September 2018.
Asked if he would have any hesitation about bringing the forward back into the starting XI in Pristina, Southgate said: "None, none whatsoever. We took the decision and drew a line under everything."
Southgate has been criticised by some for his handling of the incident at England's training camp on Monday.
He added: "I think it is always better to go through that reflection at the end of the week when I have had time at home to sit back and balance everything with the benefit of time.
"There is always lots to take on board through any experiences as a coach, as a manager [and] as a player."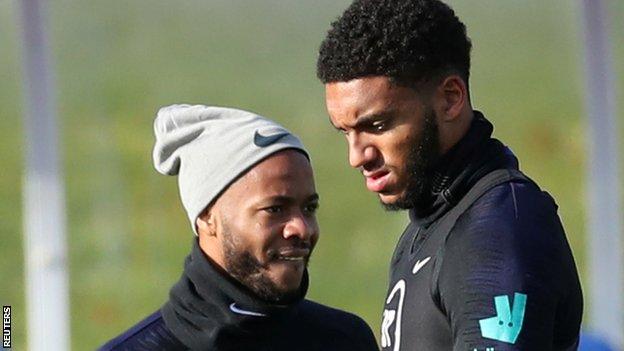 Sterling and defender Gomez, 22, had an on-field argument during Liverpool's 3-1 win over Premier League title rivals City on Sunday - a day before the England squad linked up - but defender Harry Maguire said there are "definitely no cliques" between players from rival clubs.
"Everybody mixes," said the Manchester United centre-back, 26. "We all share tables and share jokes and laughs together. You've seen how good the unity in the squad is over the past couple of years."
Asked about team spirit he said: "For sure it's been tested. I think it's a good sign we have overcome it so soon.
"Raheem and Joe are speaking and I have seen them both smiling around the place. I think that is good for the team.
"There are challenges every day, especially when you play for England. Players really do just focus on training and the game.
"Obviously the games are the most important thing. As long as we go out and perform tomorrow night everyone will be smiling."
Many of Southgate's players faced each other in last season's Champions League final, as Liverpool beat Tottenham 2-0 just five days before England's Nations League semi-final defeat by the Netherlands.
The England boss added: "When you're involved in high-emotion games it really challenges everybody's feelings and it is a very difficult situation for everyone to come back immediately together. We had that with the Champions League final in a different way.
"Because we have so many of our players - nearly all - playing in England, it's inevitable that we're going to have those games and those rivalries.
"But the players are very, very close and that's been the case right the way through the rest of the week. I don't see that changing because they're too tight for that not to be the case.
"What I saw on the training ground over the past couple of days, there was full focus on the game, with everybody very together, laughing, enjoying their football again. That's where all of us want to be."