Cardiff City: Boss could be named within 72 hours, says chairman Mehmet Dalman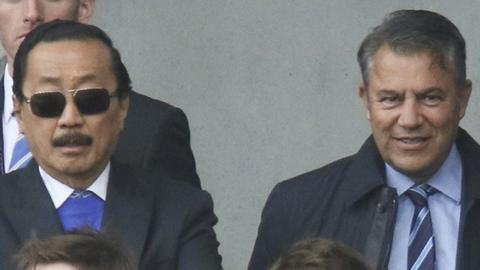 Cardiff City chairman Mehmet Dalman says the club are targeting a younger manager to replace Neil Warnock and expect a quick appointment.
Warnock left the Championship club on Monday following three years in charge.
Dalman said owner Vincent Tan will play an active role in naming the 70-year-old's successor.
"We're down to a small number of names. I'd be surprised if we don't announce something in the next 72 hours, certainly by the weekend," he said.
Former Millwall manager Neil Harris is among the early favourites to replace Warnock, who Dalman said was relieved to leave his role.
Speaking to Radio Wales Breakfast with Claire Summers, Dalman claimed it was Warnock's decision to leave the club who are14th in the Championship following Sunday's 1-0 defeat by Bristol City.
"It was Neil's decision to go," he said.
"I really wanted him to stay until the end of the season, but he felt it was time for a change. I think he was quite relieved actually when I had a chat with him and we felt maybe it was right, so he left on his own terms."
Dalman said Tan would have a say on who replaces Warnock.
"I think Vincent wants to take a much more hands-on involvement in (appointing) the next manager, which I think is right, after all he's the owner of the club," he said. "I think he wants somebody younger, maybe a little bit more (of an) offensive type of manager."
Dalman added the club could consider a director of football type appointment in conjunction with the new manager, saying he would welcome "more football knowledge at board level."
And, in terms of a new manager, he did not rule out a move for Harris, the 42-year-old currently out of work having left Millwall last month after four years with the south London club.
When asked specifically about bookmaker's favourite Harris, Dalman said: "I don't know. At the moment, we're still going through the thought process, we'll go through the names that we have and we'll focus on one of them."
'We let the gaffer down' - Bamba
Defender Sol Bamba said the players were shocked by Warnock's departure, and said they felt responsible.
"I'm devastated to be completely honest," he told BBC Radio 5 Live. "He's been unbelievable for me and I feel like I let him down and my teammates let him down as well."
The 34-year-old Ivory Coast international also said he thought Warnock's departure was too soon, and that the club would have had a better chance of improving if the Yorkshire man had stayed in charge.
"Definitely, I do think so, because listen, he's proven in 40 years management what he's capable of."
Bamba added: "For us, as a group and as a team, it was definitely premature because we felt we could have turned the corner."
He also dismissed suggestions that Warnock might have been relieved to be walking away from the pressure of management at Cardiff.
'He's going to take another job' - Bamba
"I wouldn't say it was a relief," said the Ivorian. "He's a winner and he would never have wanted to leave on these terms.
"Ideally for him it was his last season. He wanted for us to be at least in the play-offs or even take us back to the Premier League and that would have been the best time for him to retire.
"He definitely felt like he needed a rest, he's going to go away for a week or two with his family and he's going to be ready to go again because what is for sure is he's going to take another job, that's what he told me.
"I don't know if he's going to be happy for me to say that, but he definitely said he's not done yet. "