Premier League launches BAME advisory group to 'ensure views are heard'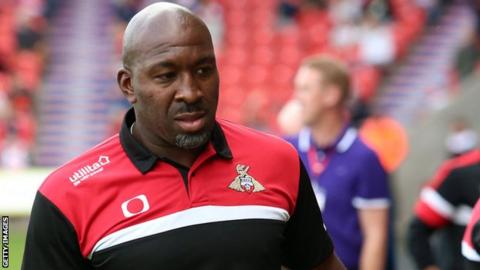 The Premier League has launched a black, Asian and minority ethnic advisory group to "ensure the views of BAME players and coaches are heard".
Doncaster boss Darren Moore chairs the eight-person group of past and present players and managers, including ex-Newcastle striker Shola Ameobi.
It has been set up to also "help inform ongoing work".
It comes as the Premier League prepares the next phase of its No Room For Racism campaign across upcoming games.
The campaign emphasises that "racist conduct is not tolerated".
On Monday, black England players were subject to racist abuse by Bulgaria fans during their 6-0 Euro 2020 qualifying win, although it had no bearing on the timing of the Premier League's announcement.
From Saturday, 19 October to Sunday, 27 October, videos on the big screens inside stadiums - along with pitchside flags, advertising boards and matchday programmes - will urge supporters to take action if they see or hear racist language and behaviour.
Racism worse than when I started - Morgan
Leicester City captain Wes Morgan is part of the eight-person group and said they will "try and make changes for future generations to improve the game for them".
Jamaica international Morgan, who captained the Foxes to the Premier League title in 2016, said racist abuse is worse now than when he began his career, citing increased use of social media as a key factor.
"That seems to be the catalyst for most of this racist behaviour that is happening," Morgan told Sky Sports.
"At the moment it's an easy way to target players and say negative things, that is a problem in itself.
"The social media side needs to be taken care of."
Former Newcastle striker Ameobi, who is also a member of the advisory group, said it was "time we all come together" to "change the social conscience" on tackling racism.
Speaking on BBC Breakfast, he said the situation in England is "a million miles away" from the racism seen in Bulgaria but added that there was still work to be done.
"What we see when things like this happen is they are pinch points where we can really get around the issue and do something about it," he said.
"It is great the Premier League are taking the initiative now. It is about time we all come together and look at tackling this."
'Campaign can't just be about hashtags'
Incidents of racism marred the 2018-19 Premier League season, with Raheem Sterling and Pierre-Emerick Aubameyang among several players to face abuse, while there have been further incidents during the current campaign.
"Our fans share the belief that racism has no place in football or wider society, but discrimination still exists among a minority," said Premier League interim chief executive Richard Masters.
"We will not tolerate racism in any form and urge anybody who witnesses racist behaviour to report it."
Masters also praised the "exemplary" behaviour of England players and manager Gareth Southgate during Monday's victory in Sofia.
The No Room For Racism campaign brings together the Premier League, the FA, the EFL, PFA and anti-discrimination group Kick It Out.
The campaign's ongoing work includes reviewing how offenders are identified, investigated and sanctioned while the Premier League is also looking at improving the means by which fans can report racism they witness in the stands.
"Hopefully we will never get to the same situation in English football as we did on Monday night," said Masters. "We want people to have faith in the system."
Social media has been identified as being crucial in the fight against racism and the Premier League is engaged in an "ongoing discussion" with Twitter about how they can work together. Manchester United players Marcus Rashford and Paul Pogba, and Chelsea forward Tammy Abraham, are among those who have been targeted on social media this season.
The Premier League recognises the campaign "can't just be about hashtags" and that it needs to be better resourced in future.
Masters said: "I agree on its own it may be seen as a hollow concept, but if it is backed up with better stewarding programmes, better collaboration from the police then I think that will start to have a greater impact.
"We want to keep the passion there, but the explanation to fans of where the line is should be clearer now."
In a statement, Kick It Out said: "We're pleased to see the Premier League continue their work to tackle racism in football through their No Room For Racism campaign, which includes a commitment to promoting reporting methods such as the Kick It Out app.
"Kick It Out will always support their efforts to make football a more inclusive place for all."